Welsh Conservative Rally
Welsh Conservatives mark their countdown to May's local elections with a rally in St. Asaph.
Welsh Secretary Cheryl Gillan has entered the row over party funding, after the treasurer of the Conservative Party was filmed boasting that access to the Prime Minister could be secured by making large donations to the party.
"This is totally unacceptable. This is not the way we raise money in the Conservative Party", she told ITV Wales Political Editor Adrian Masters. "I agree with David Cameron when he says there's going to be a full investigation."
Peter Cruddas was sacked from his role last night after he was filmed by the Sunday Times claiming that a £250,000 donation would get people direct contact with senior ministers.
Speaking to undercover reporters posing as wealth fund executives, he claimed: "It will be awesome for your business."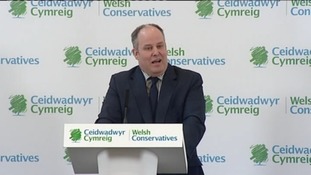 Nick Powell looks at the messages delivered to Conservative activists at the party's Welsh rally in St Asaph.
Read the full story
Advertisement
. @andrewrtdavies to Plaid voters:'if you're patriot, proud of your heritage & culture, then your beliefs are our beliefs.
. @andrewrtdavies : fielding more council candidates than ever before;'today there are no longer any no-go areas for Welsh Conservatives'
. @andrewrtdavies on 'real devolution' - let council tax payers veto excessive CT increases, decide on planning & how councils spend money.
In his speech, Wales Office minister David Jones is expected to blame Labour for 'messing up the Welsh economy.'
But he'll say the UK Government is prepared to work closely with ministers in Cardiff Bay despite political differences and calls for a 'mature response' from the Welsh Government.
Here's an extract from what he plans to say:
Wales is a proud and ancient nation. As a Welshman, I consider it nothing short of a national disgrace that it continues to need bail-outs from Europe alongside impoverished Balkan nations.

Cheryl and I have high ambitions for Wales. We want all of Wales to show the dynamism that is displayed here at Glynd?r OpTIC.

We want Wales to reach for the stars, too. And we want the Welsh Government to work closely with us to that end.'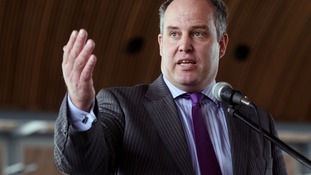 Party members are holding a rally in St. Asaph in place of their cancelled annual conference.
Read the full story
Back to top