Cameron campaigns in Wales
Prime Minister throws his weight behind his party's campaign for the Welsh local elections.
The Welsh Government has welcomed the Prime Minister's commitment to electrifying the Valley Lines but a spokesman says it must be linked to the unfinished electrification of the main line from London to Swansea:
Full electrification of both the Valleys and Great Western Line to Swansea is essential if we are to give Wales a rail network that is a genuine alternative for commuters, leisure travellers and businesses.

We are pleased the Prime Minister now recognises benefits that electrification will bring to Wales. We will continue to work with the Department for Transport to reach agreement on the business cases for electrifying the Valley Lines and for continuing electrification of the Great Western Main Line onwards from Cardiff to Swansea.
– Welsh Government spokesman
Welsh Labour have responded to David Cameron's Llandudno speech, claiming the Prime Minister had 'a damned cheek to peddle half-truths and smears'. In his speech, the Prime Minister attacked the Welsh government's record on health and education.
David Cameron has a damned cheek to come to Wales and lecture people here about Nye Bevan and our NHS. Last May, the people of Wales overwhelmingly backed Welsh Labour's vision for the NHS and comprehensively rejected the market-driven nonsense espoused by David Cameron.

The reason for this was simple. Welsh Labour believes in an NHS that remains true its founding principles. David Cameron and the Tories want to break it up and privatise it.
– Labour AM Jenny Rathbone
We oppose the Tory-obsession for a model of education that's driven by antagonism and competition. It's why we've rejected academies and so-called free schools.

Welsh Labour has maintained faith in the comprehensive model of education because it delivers for all our children.

That's what the people of Wales voted for in the Assembly elections last May. We have a mandate from the people for our policies - David Cameron doesn't."
– Labour AM Lynne Neagle
Advertisement
The Prime Minister has claimed that the Conservatives are now the party of radicalism in Wales. In a speech to Tory supporters in Llandudno, David Cameron said they should campaign as the party setting the agenda of radical change, that's going to break Wales out of failure and complacency.
The failure and complacency it's had to suffer for so many years at the hands of the left because here in Wales, the status quo is Labour. And guess what? Labour is not working.

Take the NHS. Here – in the birthplace of Nye Bevan – they are betraying our health service. And then there's education. Welsh Labour just do not get it. They're stubbornly clinging on to their old, failed, stale ideologies.

It might be the political culture in Wales but we've got to be bolder than that and offer a radical, exciting alternative. Anything less is a betrayal of the Welsh people.
– Prime Minister David Cameron MP

Mr Cameron claimed his government is protecting the English NHS budget when it's being cut in Wales. On education, he said new academies in England are setting schools free but in Wales 'the minister knows best'.

He also praised the emergency response to the ship running aground at Llanddulas.
We've had some extraordinary scenes near here in the past 48 hours. Lifeboats, helicopter rescue teams, coastguard, police, fire and ambulance crews all scrambling to that ship in Colwyn Bay.

It's thanks to their heroism that seven lives were saved two nights ago – and I know everyone here will want to pay tribute to what they did. Once again, our emergency services proved they are the best of British.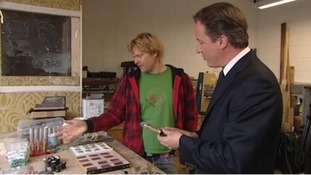 David Cameron says 'it is right to look at' plans to introduce regional pay during campaigning for the local elections in Barry
Read the full story
David Cameron on rail electrification: 'We are committed to the electrification of the Valley lines...that is what we're going to do.'
David Cameron on regional pay:'It is something we should look at and there's good reason for it.'
When I raised Vince Cable's 'unnecessary fear' claim David Cameron said 'It was announced in the budget that we would look at this issue.'
Advertisement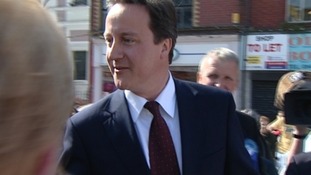 'Don't let Labour do to your council what they did to the country' says David Cameron, campaigning in Wales ahead of local elections
Read the full story
Back to top