£3 million grant for prisoner scheme
A project which hopes to prevent prisoners from re-offending has been awarded more than £3m from the Big Lottery Fund. The organisation says it is the most money given to a single project in Wales
30-year-old Gavin Williams had spent 15 years in and out of custody, culminating in being incarcerated at HMP Parc in July 2010.
Despite his claims to never having picked up a paintbrush before his time in jail, the Invisible Walls project helped him nurture a talent for art.
His murals became a distinctive feature on the walls of the prison, and after his release, Gavin started his own painting business.
"My eyes have now been opened to the damage coming to places like that do to families" he says.
"Having that guilt has made me more determined to be more successful in my life and not to go back to the same place".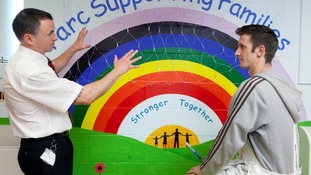 The Invisible Walls scheme at Parc Prison, Bridgend, provides support and training for prisoners, with the aim of cutting reoffending.
Read the full story
Advertisement
Back to top