Wikileaks' Welsh link
A play about Bradley Manning, the US soldier accused of releasing secret files to WikiLeaks, is being put on at the Pembrokeshire school he went to as a teenager.
A play about Bradley Manning - the former Welsh school boy at the centre of the Wikileaks controversy - is being premiered at his old school in Pembrokeshire tonight.
Manning has been accused of passing on hundreds of thousands of secret US government emails to the organisation that published them on the Internet.
The drama depicts how Manning went from life as a teenager in Haverfordwest to an Amercan prison where he is currently awaiting court martial.
Owain Phillips has been to see the show in rehearsal
Advertisement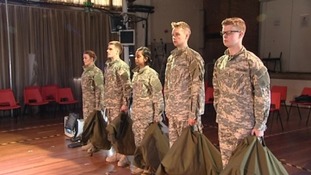 A play about the soldier accused of supplying WikiLeaks opens tonight at the Haverfordwest school he attended to for four years.
Read the full story
Back to top