AMs to pass judgement on drunk AM
Keith Davies, the AM Labour AM for Llanelli, faces a vote of censure in the Senedd after he admitted getting drunk on a night out in Cardiff that ended with him being asked to leave his hotel.
Here's the full statement from a Welsh Labour spokesman:
Following the decision by the Assembly to censure Keith Davies for his wholly unacceptable behaviour, the Labour Group Chief Whip has today officially reprimanded the Llanelli AM.

This follows careful consideration of all issues surrounding this incident and takes full account of the comprehensive report undertaken by the Assembly standards of conduct committee and the decision taken by Assembly Members today.
An official reprimand from the Labour Group is one of the most serious sanctions open to the Chief Whip. We have sought and received assurances that Mr Davies takes full responsibility for this incident and have been assured that this sort of behaviour will not happen again.
Labour's Chief Whip in the Assembly, Janice Gregory AM, has officially reprimanded Keith Davies following the censure motion against him this afternoon. I'm told it's one of the most serious sanctions open to her.
Advertisement
Llanelli AM, Keith Davies, has told Assembly Members that he is sorry for his actions following his censure.
He was criticised after he admitted getting drunk on a night out in Cardiff and then returning to his hotel with a woman he had met so that they could drink some more.
AMs have passed on a motion of censure on the Llanelli AM Keith Davies for his drunken behaviour at a Cardiff hotel. Mr Davies spoke briefly. He apologised to his fellow Assembly members, his constituents, Assembly staff and in particular to his family.
Llanelli AM Keith Davies faces his vote of censure later as Nick Powell reports here but I gather he's already faced one difficult meeting. A Labour source tells me that Mr Davies made 'an extremely humble apology' to fellow Labour AMs at a meeting yesterday (Tuesday)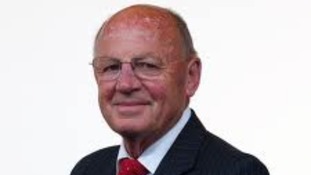 Keith Davies AM's drunken night out in Cardiff is debated in the Senedd. Some of his colleagues are unhappy that they can only censure him.
Read the full story
Advertisement
Back to top