Laudrup's Swansea 'homework'
Former Denmark international Michael Laudrup has been officially unveiled as Swansea City's new manager at a press conference this afternoon.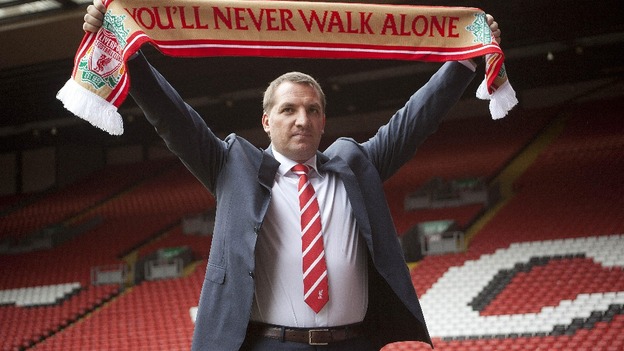 Swansea chairman Huw Jenkins has revealed an agreement is in place to stop Brendan Rodgers signing players from his former club for a year.
Under the conditions of his release, Rodgers will not be able to raid his former club for talent over the next 12 months.
Huw Jenkins said: "We have got some protection on Brendan coming back for our players in the initial period, which I think is the right thing.
"He has got a timescale to assess things there and that is going to take him a while, so I've got no worries there. We have got a 12 month respite."
Brendan Rodgers has admitted that managing a footballing 'dynasty' like Liverpool was too good an opportunity to turn down.
But as he was officially unveiled as the new Reds boss, he expressed his 'deepest gratitude and thanks' to Swansea, adding that he's been very happy in Wales.
It was a real special two years at Swansea City for me, we created history, we became the first Welsh team into the Barclays Premier League.

It's a sad day to leave Swansea, of course, because I have so many friends there; what we created has been incredible really and I have huge respect for them as a football club.

Thanks to the club and to the nation of Wales, as my time there with the media and the people has been incredible.
– Brendan Rodgers
Advertisement
Bookmakers have suspended betting on Graeme Jones, the Wigan and former Swansea assistant coach, to take over from Rodgers. But there are other contenders as Sports Correspondent Richard Morgan explains.
Former Wales international David Giles says that it's difficult to blame Brendan Rodgers for leaving Swansea, as "you don't get too many opportunities to go the top" and Liverpool represents "the very top."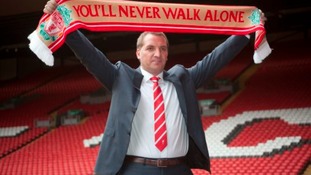 Brendan Rodgers' time with Swansea City has come to an end as he is officially confirmed as the new Liverpool manager.
Read the full story
Swansea City have officially confirmed that manager Brendan Rodgers will leave the club.
Following on from discussions with Liverpool's owners, Brendan has informed us that he would like to take up their offer to manage Liverpool. At the moment we are currently in talks with the owners to agree compensation. We are trying to finalise that within the next 24 hours.

Although we are very disappointed to lose such a talented, young British manager, we didn't wish to stand in his way. We wish Brendan every success in the future. We will always remain good friends and we thank him for all his hard work and passion at this football club over the past two years.
– Huw Jenkins, Swansea City chairman
Advertisement
ITV Wales understands that Brendan Rodgers has now left Swansea City, with a statement expected this evening.
Earlier this afternoon, fans gave their reactions to the reports of his move to Liverpool.
Brendan Rodgers to Liverpool. Could be a good bit of business. Looking forward to next seasons Premier League already!
Of course no guarantees, but if #LFC are prepared to give Rodgers time, patience and resources, he's got qualities to make a good go of it
Liverpool FC have named Brendan Rodgers as manager. I feel this could be a very shrewd appointment. Totally gets the way the game's evolving
Swansea boss Brendan Rodgers appears to be edging closer to filling Liverpool's managerial vacancy but reports he has agreed a three-year deal have been dismissed as premature.
The 39-year-old emerged yesterday as the first choice to succeed Kenny Dalglish, having moved ahead of Wigan boss Roberto Martinez.
Reports began circulating late this afternoon that a three-year deal had been agreed, although the Press Association says it was told by sources at Liverpool this was "categorically untrue".
The Reds will have to pay somewhere in the region of between £4million to £5million in compensation as part of the new contract Rodgers signed at the Liberty Stadium in February.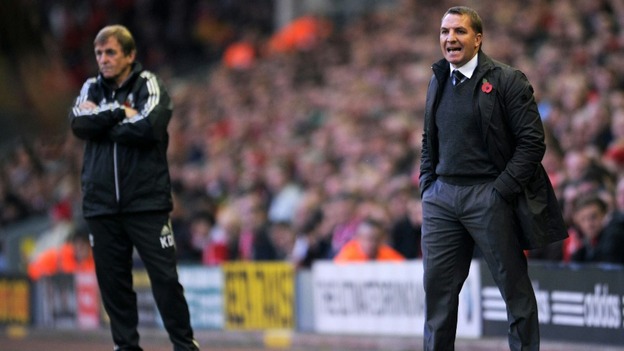 Swansea City are preparing for life without manager Brendan Rodgers after sources close to the Northern Irishman said he has been offered the vacant mangers job at Liverpool.
Rodgers rejected the opportunity to talk to the Merseysiders when first linked with the post earlier this month.
Club Chairman Huw Jenkins told ITV Wales News yesterday that he had not received a second a formal approach from Liverpool to speak to Rodgers and that a meeting between the pair was simply a matter of routine.
It is understood that Rodgers will now discuss the personal terms of any possible move before putting pen to paper on a deal.
Some reports suggest that a deal could be done within 48 hours.
Load more updates
Back to top