Books for fire-hit school
Betws Primary School's library was destroyed by a fire nearly a month ago, leaving the children with no books to read. The school got in touch with ITV's Daybreak to ask for help to re-stock it.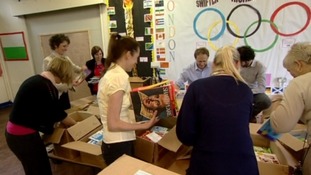 Children from Betws Primary School, which was partially destroyed by fire, receive a donation of books to re-stock their library.
Read the full story
Understandably, this has been an upsetting incident for all pupils, and staff and council officers are arranging support for those children who need it.

The school will be open to all pupils on Wednesday as it is important that they have the opportunity to access the support which will be in place for them. However, the Flying Start facility will be closed.

We are now working to see how pupils can be accommodated until the end of the summer term so that their education continues with as little disruption as possible.
– Bridgend County Borough Council
Advertisement
Graeme Smith from South Wales Fire and Rescue Service talks to Rob Osborne at Betwys Primary School in Bridgend, where a fire broke out this afternoon.
He confirmed it was a regular school day and the building was occupied with staff and children.
"It must have come as a huge shock," he added.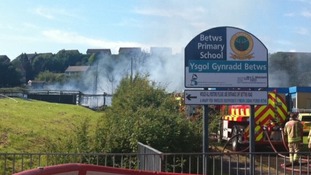 South Wales fire crews say an overheating table fan was behind the blaze at Betws Primary School in Bridgend yesterday afternoon.
Read the full story
Back to top