Pembrokeshire line reopens
The railway line to Fishguard has reopened after a train derailed last week. No one was hurt but several cows were hit.
Railway reopens after train derailment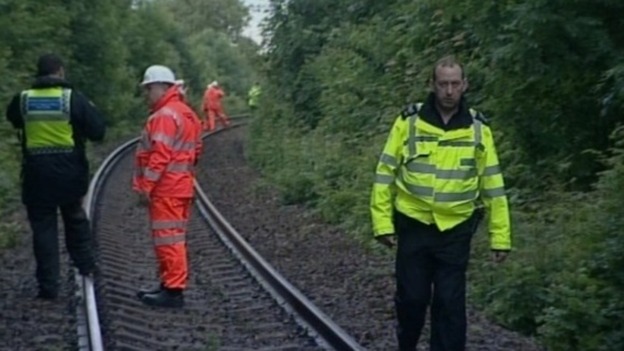 Network Rail say that the railway line to Fishguard has reopened after a train derailed on Thursday night. Work to inspect the rails has been taking place since the train was removed on Friday and this morning at 7am services resumed along the line.
The incident occurred at about 7pm and around 29 passengers were evacuated from the train after a carriage derailed in an area called Welsh Hook, which is situated between Letterston and Wolfscastle.
No-one was injured but a number of cows were hit. As well as firefighters and the police, a vet was also sent to the scene.
Pembrokeshire railway reopens
The Pembrokeshire railway line which was closed after a train derailment is expected to reopen today.
The derailment happened on Thursday evening, near Letterston in the Welsh Hook area. Twenty-nine passengers were taken to safety and no-one was injured.
Network Rail and Arriva Trains Wales released a statement on Friday saying they are investigating the circumstances which lead to the derailment.
Advertisement
Network Rail respond to Fishguard derailment
Network Rail is taking this incident very seriously and a detailed investigation is already underway. We are grateful that none of the staff and passengers on the train was hurt. We are working closely with British Transport Police, Arriva Trains Wales and the Office of Rail Regulation (ORR) to understand the sequence of events that took place.
We believe the cows entered the railway via a footpath level crossing where repairs had been conducted within the last few weeks. The train has now been re-railed and moved to another location, where it will be inspected by the ORR. The line is expected to be re-opened ready for scheduled services on Sunday afternoon.
– Mark Langman, Route Managing Director, Network Rail
Derailed train back on its tracks
A train which derailed yesterday evening in Pembrokeshire has been moved back onto its tracks, according to a spokesperson from Network Rail.
The train is said to be moving along the tracks at about 5 mph, in an effort to get it off the rail line.
The spokesperson also said that the route is expected to be up and running again by midday on Sunday.
Network Rail will now inspect the tracks as part of their investigation into the incident.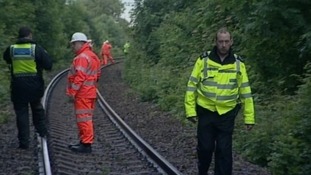 A train which derailed in Pembrokeshire last night has been moved back onto the tracks.
Read the full story
Train derailed in Pembrokeshire after hitting cows on the line
Passengers have been evacuated from a train, after a carriage was derailed near Letterston in Pembrokeshire. The incident happened around 7pm, in an area called Welsh Hook, which is situated between Letterston and Wolfscastle.
Mid and West Wales Fire and Rescue Service say 29 passengers were take by bus to Fishguard station. There have been no injuries reported.
Approximately six cows were been hit, a spokesperson said.
Advertisement
Back to top