Jobless figures released
The latest unemployment figures showing the number of people out of work in the three months to June have been released.
With A level results out tomorrow many young people will no doubt be thinking about jobs. Figures out today reveal that things appear to be getting better.
The unemployment rate fell by 7,000 in the period between April and June. It now stands at 126 thousand.
That means that 8.6 percent of people in Wales are jobless.
But despite the slight improvement-many youngsters here are still worried about the future as Ian lang reports.
Dr Kathryn Ringwald, an Economic specialist from the University of Glamorgan believes todays unemployment figures may have fallen but future job prospects in Wales could still be poor.
Advertisement
The number of people out of work in Wales has fallen by 7,000 between April and June to 126,000.
The unemployment rate here now stands at 8.6 per cent - down 0.4 per cent from last month's figures.
But that's still higher than the national average of eight per cent. Across the UK, unemployment fell by 46,000 between April and June to 2.56 million.
The latest figures from the Office for National Statistics, showing how many people in Wales - and across the UK - are out of work, are due out later this morning.
Last month's figures showed the number unemployed here rose by 2,000 between March and May to reach 133,000.
The rate of unemployment reached nine per cent in Wales, higher than the 8.1 per cent average across the UK as a whole.
Commenting on today's latest Labour Market Statistics for Wales, Business Minister Edwina Hart said:
These statistics are clearly disappointing and show people and businesses across Wales are continuing to face real challenges as a result of the double-dip recession in the UK economy, made worse by the difficult and uncertain global economic climate.
– Business Minister Edwina Hart
"The Welsh Government is doing all we can within our powers to support and encourage business in Wales and our Programme for Government places jobs right at the heart of what we do, including a £3billion investment in Welsh infrastructure projects and innovative grant schemes such as the Welsh Economic Growth Fund. To date this Fund has committed more than £31million to support 118 business investment projects around Wales, with the potential to create some 1,800 jobs and safeguard another 1,600 jobs.
– Business Minister Edwina Hart
Young people and women are being particularly hit hard and we are doing all we can to provide additional support to help them into employment through schemes like Jobs Growth Wales, aiming to create 12,000 jobs for 18-24 year olds over the next three years, and improved childcare support.
– Business Minister Edwina Hart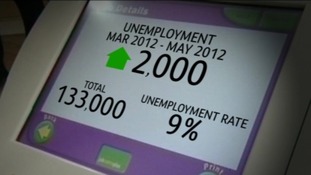 Advertisement
Figures out in the last half an hour have revealed that unemployment in Wales has risen slightly in the last quarter.
An extra two thousand people are out of work.
That now takes the total number here to 133,000.
Back to top