Maerdy church campaign over
After months of fighting to keep their church open, the parishioners of All Saints Church in Maerdy are being forced to give up their campaign after failing to raise enough money for its lease.
The Church in Wales say they are disappointed to hear that the parishioners of the All Saints Church in Maerdy have decided not to take up their offer to take over the running of the church but say the news is understandable.
The Representative Body of the Church in Wales which owns All Saints Church say they offered to lease the building in March but are still waiting for a response. A spokeswoman added they would be willing to meet and discuss any concerns they have about the lease.
When All Saints closed, the Church in Wales continued to provide services in Maerdy for six months at the Community Centre but as no one came, that was discontinued. However, Maerdy is still cared for pastorally by the parish priest.

The Church in Wales is currently reviewing its ministry across the whole of the country in order to see how it can best use its resources to serve people in the 21st Century.
– Church in Wales spokeswoman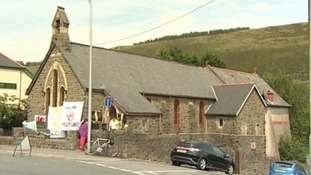 After months of trying to raise enough cash to keep the All Saints Church in Maerdy open, its parishioners have had to give up the fight.
Read the full story
Advertisement
Back to top