Deeside factory fire
North Wales Fire and Rescue Service have been battling a fire on the Deeside Industrial Estate.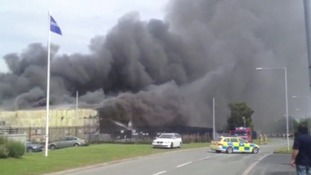 Firefighters have been battling this afternoon to bring a fire at the Ifor Williams Trailer distribution factory on Deeside under control.
Read the full story
A spokesperson for a Deeside trailer manufacturer says production will resume as soon as possible following a fire earlier today.
The main production area at Ifor Williams Trailers on the Deeside Industrial Estate is largely unaffected.
The most important thing is that all 70 members of staff were evacuated safely from the building. We are grateful to the emergency services for their prompt response and for their efforts in tackling the fire. The fire has been put out by the fire service who are on standby duty. We will work closely with them to identify the cause. In the meantime we are carrying out a full assessment of the damage.
– Ifor Williams Trailers spokesperson
Advertisement
North Wales Fire and Rescue Service say they are dealing with a fire on the Deeside Industrial Estate.
A spokesperson said crews were called to the incident in a building on 4th Avenue, Deeside Industrial Estate, at 12.58pm.
Eyewitnesses have described hearing loud bangs from the Ifor Williams Trailers factory. They say there were large clouds of thick black smoke, but that the fire is now largely under control.
Appliances from Deeside, Buckley, Mold, Holywell, Wrexham and St Asaph, as well as the Aerial Ladder Platform, the Environmental Protection Unit and the Incident Command Unit, were all sent to deal with the fire.
Back to top