'Tombstoning' risks lives
The RNLI are warning people that they are taking their own lives into their hands by taking part in so called 'tombstoning.' A number of people have posted videos on the internet showing people diving off cliffs around Wales.
The RNLI is warning young people who participate in 'tombstoning' that they are taking their lives into their hands.
They say it's only a matter of time before someone is killed or seriously injured jumping off Wales' cliffs.
Some images courtesy of youtube
Stuart Thompson, from the RNLI, says one of the risks of tombstoning is the sheer unpredictability of the environment.
"The problem is that you know heights of tides change, conditions change" he says.
"The conditions of the seabed change as well so it's actually quite a dangerous practice".
Advertisement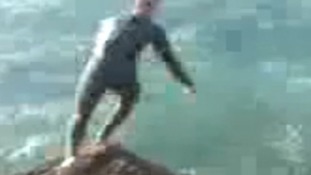 The RNLI is warning people who dive off cliffs - also known as 'tombstoning' - that they are risking their lives.
Read the full story
Back to top