GCSE regrade row
The Welsh Government was warned that regrading GCSE exams in English would 'seriously damage' the integrity of the qualification. The comments were made by the WJEC exam board in emails released by the Welsh Government.
Campaigners opposed to further devolution say they fear the GCSE regrade row could mean that any new exam system in Wales would be seen as a 'poor man's alternative' to qualifications in England. The True Wales group says the regrade could 'do lasting damage.' Its statement says,
True Wales is deeply concerned about the haste with which Leighton Andrews ordered the regrading of GCSE English exam papers in Wales. We fear that a perception that it is easier to gain a 'C' in Wales than in England will become widespread and may do lasting damage to the prospects of future generations of Welsh students who wish to work or study outside Wales.
The row has increased speculation that pupils on different sides of the border will ultimately sit different exams. True Wales is concerned about this outcome:
We are disappointed that tensions between Cardiff Bay and Westminster have led to the likely eventuality of separate examination systems for England and Wales and feel that the events of this summer mean that any new system in Wales will be seen as a poor man's alternative.
The Welsh Education Minister, Leighton Andrews, will today update Assembly Members on the current GCSE situation in Wales.
Last week over 2,000 Welsh youngsters received a re-graded English language paper after the Minister decided that papers should be re-marked.
The decision caused a cross-border row after he came in for heavy critcism from Education Secretary, Michael Gove.
Advertisement
Pupils at Barry Comprehensive School are among some 2,000 Welsh teenagers receiving their improved English Language GCSE results today.
Headteacher Gerard McNamara told ITV Wales his pupils were 'delighted' with their higher grades and were now able to focus on their A-levels.
Welsh exam board the WJEC was ordered to re-grade the papers in a controversial move by Education Minister Leighton Andrews.
It followed concerns that a change in grading boundaries meant some students were awarded lower grades than expected.
However, pupils in England who sat the same exams set by the WJEC will not have their grades changed.
Over two thousand teenagers across Wales will receive their improved English language GCSE results today.
Welsh Education Minister Leighton Andrews ordered the re-grade after pupils received worse grades than expected.
Speaking after the announcement by the WJEC that over 2,000 candidates have received improved grades after a re-grade ordered by the Education Minister, Dr Philip Dixon of The Association of Teachers and Lecturers said:
We are delighted for these youngsters. They are now receiving the grades they would have received in any normal year...and they have the chance of a brighter future.

The Minister is to be commended for such bold and decisive action. The few embittered voices who will try to deny these youngsters their success will clearly be seen for the politically motivated killjoys they are.

This entire fiasco shows why we in Wales are thinking long and hard about the best qualifications system for our young people.
He went on to say:
The Review of Qualifications to be published in November will hopefully chart a clear course for us. This findings of this well researched and well evidenced Review will be in sharp distinction to the hastily cobbled together and ill-thought-through Ebac announced yesterday in England.
– Dr Philip Dixon, Director Association of Teachers and Lecturers
The WJEC has confirmed that over 2,000 GCSE students will have their English Language grades increased.
The exam board was ordered to re-grade the papers by Education Minister Leighton Andrews following concerns over a change in grading boundaries introduced mid-way through the academic year.
It has been confirmed that 1,202 students will have their grades increased from a D to a C and 598 from a C grade to a B.
The lowering of grade boundaries also meant there were some changes at other grades, resulting in an overall figure of 2386 receiving raised grades.
Advertisement
The WJEC will today issue the regraded results of English GCSEs.
Welsh Education Minister Leighton Andrews directed the board to review this year's results following the row about students being awarded lower grades than expected last month.
The exam board is obliged to publish the results by 5pm.
The re-grading direction applies specifically to those candidates on the C/D grade boundary. However, there will be some consequential impact on other grades, which are determined by an arithmetic relationship to the C/D boundary.
– WJEC spokesperson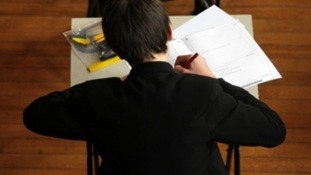 Following the decision by Westminister to replace the GCSEs in England, the Welsh Government says it won't rush into a decision here.
Read the full story
WJEC is extremely interested in developing ambitious new EBC qualifications proposed for England by the Minister for Education. We are also keen to continue playing a leading role in developing qualifications for Wales, following completion of the 14-19 qualifications review.

We are confident in our ability to support students and develop and deliver high quality specifications for use by schools and colleges in England and Wales.
We will continue to provide our full range of qualifications to centres in both England and Wales until summer 2016, which seems to be the date for the final full series of many current GCSEs in England.
– Spokesperson, WJEC
Load more updates
Back to top