Plaid Cymru conference
As the Plaid Cymru conference gets underway in Brecon, Leanne Wood promises her party will offer a 'radically new way of working' on economic policy. But with limited fiscal powers in Cardiff Bay, what will her 'Green New Deal' look like?
Plaid Cymru says the Welsh Government is downgrading hospitals and putting patients at risk. The party's conference has also heard a call for Wales to have its own criminal justice system.
Owain Phillips reports.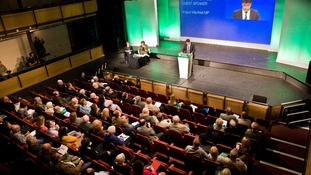 The Plaid Cymru Conference hears a keynote speech on tackling crime but votes against fighting November's Police Commissioner elections.
Read the full story
Advertisement
Leanne Wood has told ITV Wales that despite her party's focus on the economy, Plaid Cymru has not given up the fight on subjects like independence and the Welsh language.
But she said reaching out to non-traditional Plaid voters was 'key', adding that there are no 'no-go areas' for the party.
Plaid's leader also dismissed the subject of her party's performance in recent polls, saying: "Polls change. A week is a long time in politics, so four years is a very long time. I'm confident we can change Plaid Cymru's trajectory in those polls."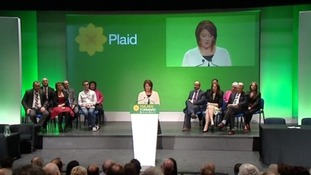 Plaid Cymru leader Leanne Wood has been addressing her party's annual conference for the first time since taking the helm earlier this year.
Read the full story
Leanne Wood will give her first annual conference speech as Plaid Cymru leader within the next hour.
She's expected to speak about the economy and the need to create jobs rather than focusing on independence and other constitutional issues.
Advertisement
She told me yesterday that it's not an issue anymore for the party. Everyone knows where Plaid stands on constitutional change.
Constitutional change will be important part of debates at Plaid's conference but don't expect much in @leannewood 's leader speech.
Plaid Conference will debate an emergency motion on the GCSE row this morning.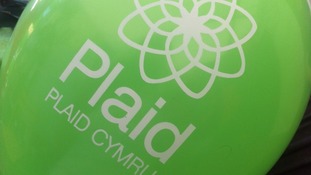 Plaid's leader promises a 'radically new way of working'. But with limited fiscal powers in the Bay, what will her 'Green New Deal' offer?
Read the full story
Back to top