First Minister in Downing Street talks
First Minister Carwyn Jones has been holding talks with the Prime Minister and the heads of Scotland and Northern Ireland at a meeting in Downing Street
There was one bit of political gossip the First Minister was keen to stamp out during his London visit: the suggestion that he might be being lined up for a Westminster role. In the New Statesman a couple of weeks ago, Kevin Maguire wrote:
Carwyn Jones, the rugby-playing First Minister of Wales, is to play a bigger role in British politics. Ed Miliband's office recognizes that the leader of the only bit of the land under Labour rule is a reminder that the party is down but not entirely out. Some in the Labour leader's circle would like Jones the Job in the House of Commons. The man himself, however, has other ideas and prefers to govern from Cardiff.
Which is exactly what Carwyn Jones said when the Western Mail's David Williamson and I asked him about the rumours during a conversation at the Welsh Government's London office. He laughed off the suggestion that he would even consider swapping the Assembly for Parliament:
I see being First Minister of Wales as a great honour. I certainly don't see it as a stepping stone.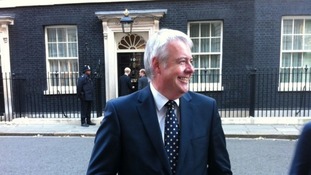 At a meeting in Downing Street, First Minister Carwyn Jones also tells David Cameron to reject plans for an airport in the Thames Estuary
Read the full story
Advertisement
First Minister Carwyn Jones says the UK and Welsh Governments have agreed to put their differences aside to work together more. He was echoing calls made by the new Welsh Secretary, David Jones. Speaking after a meeting with the Prime Minister in Downing Street this morning, the First Minister said,
Let's start again. I met with David Jones this week - it was a genuinely cordial meeting. We discussed a number of matters and there was a general expression that we need to make a fresh start and to work together where we can.

I don't think the people of Wales want us to spend the entire time arguing. That's certainly not our intention as a government and that's not the intention of David Jones as he said to me this week.
There'll be a number of areas where we can work together. There will be disagreements, that's inevitable. But I think there's a genuine desire to work together where we can in order to advance the interests of our people.
Privately sources close to the First Minister say that on a personal level, he gets on with the new Welsh Secretary far better than he did with his predecessor and finds him easier to deal with.
I understand there's an intention not to criticise David Jones unduly, but to give him chance to match warm words with actions. What the Welsh Secretary does with controversial plans to change the Assembly's election system could be the first test of that approach.
At a meeting with the Prime Minister in Downing Street, First Minister Carwyn Jones called for Air Passenger Duty to be devolved. He also told David Cameron to reject plans for a new airport to be built in the Thames estuary.
Heathrow is an important hub for Welsh businesses. The idea of building an airport in the Thames estuary is completely fanciful: it's too far away from South Western England and South Wales, it's far too inconvenient. So Heathrow is important: it created the M4 corridor.

But on top of that, we want to make sure that we help to build Cardiff airport and, indeed, Anglesey airport and other airports around Wales and in order to do that it would help to have Air Passenger Duty devolved. Then we could put in place the incentives to develop our airports in Wales.
– First Minister Carwyn Jones
Back to top