Lib Dem party conference
Welsh Liberal Democrats have travelled to Brighton for their party's conference.
Sources close to the Liberal Democrat leadership are making it clear they're happy with the outcome of the regional pay vote, even though it potentially puts ministers in conflict with coalition colleagues and even though it marks a reversal from previous comments by at least one senior figure.
You can read more about the vote here and there's more background here. Welsh Lib Dems, who were behind it, had invested a great deal of time and effort in winning over senior figures like Nick Clegg and particularly Danny Alexander, who'd previously said he was 'keen' on the idea of regional pay.
I gather he wasn't present for the vote but those close to the leadership say 'everyone' is happy with the outcome and underline what Nick Clegg said to me about needing 'overwhelming evidence' that change would benefit the whole country. In other words, I'm told, there's not a chance it'll happen.
The Liberal Democrat conference has overwhelmingly opposed the introduction of regional pay rates in the public sector. The Assembly member Eluned Parrott told delegates in Brighton that the idea would suck money out of poor communities and cost the Welsh economy 600 million pounds a year.
Speaking after the vote, Ms Parrott said,
I am delighted that Liberal Democrat members from all over Britain voted in favour of our motion. This is a significant step forward for our campaign to stop regional pay.

The Welsh Liberal Democrats have once again shown that we will stand up and fight for the best deal for the people of Wales.
Advertisement
There's encouragement from an opinion poll for Welsh Liberal Democrats trying to persuade the UK party to block controversial proposals for regional pay in the public sector. The poll, carried out by Survation for the TUC, found that 65% of respondents are against the move. Just 19% are in favour.
As a sign that the Welsh Lib Dem effort should succeed this afternoon, 75% of Lib Dem voters said the UK Government should not go ahead with any plans to introduce regional pay. You can find the full poll results here.
For the Welsh Liberal Democrats, there's a lot riding on today's regional pay vote in Brighton. (There are more details here.) If they succeed they'll have set their party against any attempt by the Coalition Government to introduce different public sector pay levels in different parts of the UK.
It's a major challenge too for Eluned Parrott who only became an AM last year but is leading the debate which starts at 4pm this afternoon. She told me that she wants to win over heads as well as hearts, presenting economic arguments against regional pay as well as appealing to a sense of fairness.
She and leader Kirsty Williams have also seized every opportunity to try win over senior figures in a series of formal and informal meetings. Danny Alexander, who earlier this year said he was 'keen' to see local pay, will be in the front row. Have the Welsh Lib Dems succeeded in changing his mind?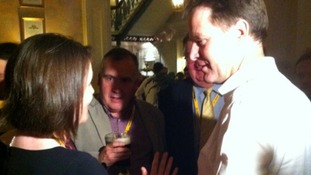 Welsh Lib Dems want their party to block moves towards introducing public sector 'regional pay' and believe they have high-level support
Read the full story
Advertisement
The Welsh Liberal Democrats say they're 'quietly confident' they have enough support to halt UK Government moves towards regional pay in the public sector. The party's annual conference will vote on the Welsh Lib Dems' call on Tuesday.
Liberal Democrat leader Nick Clegg has insisted he is 'sceptical' about the idea of paying different salary levels to public sector workers in different parts of the UK.
His comments come ahead of Welsh Lib Dem efforts to persuade the party to halt plans for regional pay.
And they appear to be at odds with earlier support for the plans from fellow Lib Dem minister Danny Alexander.Mr Clegg told political editor Adrian masters:
No decision has been taken. We will not take any decision unless there is overwhelming evidence that it helps everybody and if there isn't, I've set the bar very high, of course we won't do this.
– Nick Clegg MP, Liberal Democrat Leader
Our political editor Adrian masters asked Liberal Democrat leader if he'll apologise to Welsh Lib Dems for heavy losses in May's council elections.
Speaking at the party's conference in Brighton, Mr Clegg said:
I totally accept that in a place like Wales whose heart has always beat on the left that seeing Liberal Democrats ... go into a coalition with the Conservatives has put some people off.

But what I would say is this: when the British people voted in 2010 they decided no one had won an absolute majority. Now we could have retreated and thrown stones at each other but that wouldn't have helped in creating jobs, wouldn't have helped deliver more apprenticeships in Wales in the way we have done.
– Nick Clegg MP, Deputy Prime Minsiter
Load more updates
Back to top