Welsh Budget announced
The Finance Minister Jane Hutt has announced her draft budget for 2013/14 in the Senedd.
This is the second budget which delivers significant cuts to key services. Against this background of cuts we believe that the Welsh Government should be doing more to invest in the Welsh economy by using innovative schemes such as Build4Wales to invest in schools, roads and hospitals. We also want to see the Welsh Government doing more to target youth unemployment, which has increased dramatically over recent years. We don't want another lost generation as happened in the 1980s under Thatcher.**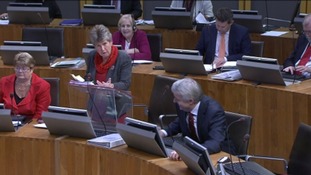 The Welsh Government has outlined how it plans to spend more than £15 billion next year
Read the full story
Advertisement
The Welsh Liberal Democrats say they won't support Labour's spending plans unless it finds more money for schools. As part of its draft budget the Welsh Government says it will spend nearly £5m more on the Pupil Deprivation Grant which came as a result of a deal with the Lib Dems last year.
But the Lib Dems say that's not enough. Finance spokesman Peter Black said:
In its current form, the Welsh Liberal Democrats cannot support the draft budget as we don't believe it goes far enough to tackle the problem of making sure that children from deprived backgrounds get the fair start in life they deserve.

We are pleased that the government has honoured its commitment to continue the pupil premium funding for this and future years at the existing level of £450 per pupil. This reflects the agreement negotiated with the Labour government by the Welsh Liberal Democrats last year.
However, the link between poor educational outcomes and deprivation is still too evident and we need to see year on year progress to extend the pupil premium.

In short, the budget should go further to ensure that children's achievement at school should reflect their ability not their background.

Further analysis will be needed of the draft budget and the Welsh Liberal Democrats will continue to press the case for a budget that will serve the needs of the people of Wales
The Welsh Government needs the votes of another party to pass its budget. Lib Dem leader Kirsty Williams has already held preliminary talks with the Finance Minister Jane Hutt. She's said that there's no spare money in the draft plans. That means more talks before the final budget vote in December.
Welsh Conservatives have criticised Labour's draft budget proposals for giving the health service 'the toughest funding settlement in the UK.' Shadow Finance Minister Paul Davies said:
It's Groundhog Day for our National Health Service. Snubbed again and still facing the toughest funding settlement in the UK.

Hospital downgrades and closures threaten communities the length and breadth of Wales as a result of Labour's record-breaking cuts.

Lessons have not been learned and the plight of frontline health workers has not been heeded.

The First Minister has admitted our health boards probably won't break even and bail-outs will be required again, yet there is no additional investment in this Draft Budget. Chaos and confusion reign.
Finance Minister Jane Hutt has announced the draft Welsh budget for 2013/14. She said boosting the economy, creating jobs, investing in schools and hospitals and protecting universal benefits are at the heart of her proposals. There is an additional £175 million investment over the next two years.
£40 million on improving the Heads of the Valleys Road between Brynmawr and Tredegar
£25 million for improvements to the A55 Conwy Tunnel
£30 million for hospital improvements
£25 million for schools and colleges
£10 million on high speed broadband

£13 million on facilities for the 'Flying Start' programme for disadvantaged children
£12 million on social housing
£10 million on energy-efficient homes
£10 million on flood and coastal defence improvements
We have always said that we will do all we can to boost capital in the face of budget reductions – because we know this is vital to support economic growth and create jobs. This £175 million package of capital investment will make a real difference, by delivering longer term benefits for the economy and, vitally, better infrastructure for our key public services. It builds on the sustained programme of interventions and actions we have made in the Welsh economy worth nearly half a billion pounds, in order to support businesses in Wales during these challenging times.
– Finance Minister Jane Hutt AM

The Finance Minister said she will 'grow' the social services budget and 'protect' the health budget and funding for schools. The pupil deprivation grant, introduced after a deal with the Lib Dems to get last year's Budget passed, will be maintained, as will a range of free universal benefits.
Our number one priority is to deliver a Budget for Growth and Jobs which will create a more prosperous Wales, by encouraging economic growth and creating and sustaining jobs. Despite the Welsh Budget being £2.1 billion lower in real terms by 2014-15 than at its peak in 2009-10, as a result of cuts imposed by the UK Government , we have ensured all Welsh Government departments see an increase in funding.
– Finance Minister Jane Hutt AM

The draft budget will now be examined in detail by AMs. As the government does not have a majority in the Senedd, it will need to win the support of at least one of the opposition parties. It's likely that money will have to be found to meet some of their priorities and secure their votes.
Advertisement
Welsh Liberal Democrats say they'd want more money spent on schools before they'd back Labour's budget. The spending plans are published later but the Welsh Government doesn't have a majority in the Senedd and needs the votes of another party to get its budget through.
There are more details of the Lib Dem demands here. I asked the party's Welsh leader Kirsty Williams if she's holding out for a continuation of the deal she struck last year or an increase in the amount of money ploughed into schools.
The Welsh Lib Dems say their Budget demands will again concentrate on education. Last year Jane Hutt won their support for her Budget by agreeing to a Pupil Deprivation Grant, similar to the Pupil Premium paid in England. The grant pays £450 to schools for each pupil entitled to free school meals.
The Lib Dems are now saying that although the grant was a start, more must be done to make sure that all pupils in Wales get a fair start in life. In England, there'll soon be a 'catch-up premium' based on the number of pupils arriving in secondary school who have fallen behind in English or maths.
Last year, the Welsh Liberal Democrats vastly improved upon the Welsh Labour Government's proposed budget by introducing the Welsh Pupil Premium. If we recognise an opportunity to improve on this year's budget, then of course we will consider it, but the agreement must be the right one.

Despite failing standards in our schools and an ever growing spending gap per pupil when compared to England, the Welsh Labour Government was content with the status quo. The Welsh Liberal Democrats couldn't allow this trend to continue, which was why we insisted on the introduction of a Pupil Premium.
We fought hard to ensure that further funding was put into our education system so that the most disadvantaged children would get the help they need. We are immensely proud that when we are out knocking on people's doors, it is the Pupil Premium that people remember from that particular budget.

We used our influence to give all children a fairer start in life. Nonetheless, we can't just sit back and believe the job is done. In this budget, we are calling on the Welsh Labour Government to make further moves to ensure that Wales' children are not allowed to be left behind.
– Welsh Liberal Democrat Leader Kirsty Williams AM

Kirsty Williams says she has held preliminary talks with Jane Hutt about this year's Budget. As Labour lacks an overall majority in the Senedd, the Finance Minister will have to strike a deal with one or other of the opposition parties. The Lib Dems are hoping to be her preferred partners.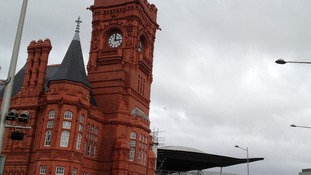 The Finance Minister, Jane Hutt, unveils her draft Budget at 3pm but weeks of talks lie ahead to get a Senedd majority for her plans.
Read the full story
Back to top