Exhibition on Cardiff's nightlife
An exhibition exploring Cardiff's nightlife has opened this weekend. It's called Cardiff After Dark by Polish photographer, Maciej Dakowicz.
A fair representation of Cardiff?
An exhibition documenting Cardiff's colourful nightlife has opened in the capital. 'Cardiff After Dark' is a collection of images by Polish photographer, Maciej Dakowicz.
The snapshots of the city are already proving controversial, praised for their humour and honesty but criticised for glamourising binge-drinking. Tom Sheldrick went to see for himself.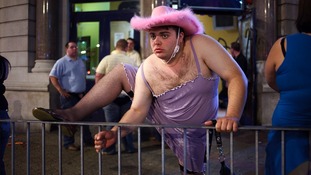 An exhibition on Cardiff's nightlife opens this weekend. The photos by Maciej Dakowicz capture drinking, violence and general mayhem.
Read the full story
Advertisement
Back to top