Criticism of AWEMA handling
There were "weaknesses" in the way the Welsh Government managed the way it funded the charity AWEMA, according to the Wales Audit Office.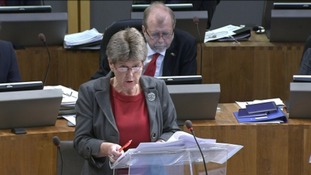 Finance Minister Jane Hutt comes under fire over a critical report into the Welsh Government's supervision of the failed charity AWEMA
Read the full story
Responding to Welsh Government claims that opposition parties 'chickened out' of raising criticism of ministers' handling of AWEMA during First Minister's Questions, a Welsh Liberal Democrat spokesman says:
Name calling and goading of opposition parties is a futile attempt to distract from very serious concerns about the incompetence of Labour ministers in dealing with AWEMA.

Nineteen critical reports about government grant management, half a million pounds of Welsh tax payers' money wasted and lessons still not being learnt – all of this under Labour's watch.

The maturity of this Labour Government is reflected in their "spokesperson's" comments.
Advertisement
Bitter words continue to be traded between the Welsh Government and the opposition parties as a result of the fallout of last week's critical report into ministers' supervision of the failed charity AWEMA.
There was strong criticism of the Welsh Government in the chamber this afternoon when opposition parties forced an urgent question but surprisingly the Conservative, Plaid Cymru and Liberal Democrat leaders didn't raise it in First Minister's Questions.
A government source has seized on this, saying:
Opposition parties clearly chickened-out of confronting the First Minister over AWEMA during FMQs this afternoon. The WAO report scuppered their attempt to smear the Government on this issue. They have failed miserably.
The Welsh Liberal Democrats have had an urgent question on the Wales Audit Office Report into AWEMA, the now defunct equality charity, accepted.
Welsh Liberal Democrats Leader, Kirsty Williams gave our Political reporter, Owain Phillips, her response to this development in the issue.
The Welsh Government is hitting back at criticism from the Liberal Democrats over its response to last week's Audit report into its supervision of the failed charity AWEMA by turning the focus back onto the Lib Dems and claims they've made about Labour links to AWEMA. A government source says:
Back in February of this year, the Welsh Lib Dems made some totally unsubstantiated claims about Labour Party involvement in this issue. We now know, none of their smearing was in any way true. Perhaps it's time the Welsh Libs Dems apologised for misleading the public and the media.
The Welsh Conservatives have joined opposition criticism of the Welsh Government's refusal to make a statement to the Assembly on a critical report into its handling of the failed charity Awema.
An opposition bid for an urgent question has been allowed but the Welsh Government insists it would be 'inappropriate' to make a statement before the Public Accounts Committee considers the Wales Audit Office report, a defence dismissed as 'flannel' by the Tory Assembly leader Andrew RT Davies.
This lazy Labour cabinet holes itself up on issues of national importance far too often.

While the pantomime ministers are happy to dismiss responsibility and shriek with horror at difficult UK government decisions, they repeatedly lock their doors and shun the spotlight on issues that call their leadership into question.

The First Minister should say sorry for this shambles and give a guarantee that it won't happen again
– Andrew RT Davies, Welsh Conservatives' Assembly leader
Advertisement
The Assembly's Presiding Officer, Rosemary Butler, has allowed an urgent question about the Welsh Government's funding of the ethnic minority charity AWEMA to be asked in the Senedd this afternoon. The question from the Liberal Democrat AM Peter Black will oblige a government minister to respond.
Last Thursday, the Wales Audit Office was highly critical of the government's lack of control of how more than £7 million was spent over a decade. A final payment of more than half a million pounds was not stopped because the government reacted too slowly to concerns about how the charity was run.
The Welsh Government has refused all requests for interviews since the Audit Office published its report. It has also not offered to make a statement to the Assembly about the AWEMA affair. It must now decide which minister will respond this afternoon.
An urgent debate should be held in the Assembly on a report which was highly critical of the Welsh Government's handling of the failed charity Awema, according to the Welsh Liberal Democrats. The party's condemning what it calls 'the continued silence' of ministers.
No minister has agreed to interview request since the report was published last Thursday. Opposition calls for an urgent question to be allowed are being considered by the Presiding Officer. But the Lib Dems say there an urgent debate which the rules allow to be held at short notice.
Labour Ministers have refused every opportunity presented to them to explain their actions. It is nothing short of a disgrace that we are yet to receive a single ministerial statement since the release of the Wales Audit report. This is an insult to the National Assembly and its democratic processes...

It is absolutely unacceptable that they are hiding like this. Refusing to answers questions and sending out a civil servant as cannon fodder is tantamount to cowardice.
– Peter Black, Welsh Liberal Democrats

In response to the Lib Dem criticism, a Welsh Government spokesperson said:
There is an agreed and established process in place to consider reports of this nature. The National Assembly's Public Accounts Committee will give due consideration to the Wales Audit Offices' report, and the committee's conclusions will be debated by Assembly Members in due course. It would therefore be highly inappropriate for Welsh Ministers to comment until then.**
Ministers still won't answer questions about the seven million pounds of taxpayers' money given to the ethnic minorities charity AWEMA. An audit report yesterday criticised the Welsh government's weak control of how the money was spent. Ministers have refused all media requests for interviews.
The Welsh Government has also not yet agreed for a minister to make a statement about AWEMA when the Assembly meets on Tuesday. AMs would then get a chance to ask questions. One Labour backbencher has made it clear that he expects a minister to respond in the Senedd.
I would expect that when ministers are questioned about this in the Assembly next week, as I'm sure they will be, I suspect they will need to give an account of how they dealt with matters. But actually it is set out fairly clearly in the report that they did what their civil servants advised them to.
– Labour AM Vaughan Gething, speaking on Sharp End on ITV1 Wales.

If the government does not agree to a statement, the Presiding Officer will have to decide whether to allow an urgent question about AWEMA, backed by all three opposition parties. It was tabled last night by the Liberal Democrat AM Peter Black.
Assembly members have still have not received a written statement from a single government minister since this report was released. The people of Wales deserve answers as to why over £7million was thrown at an organisation that was clearly playing fast and loose with public money.
– Liberal Democrat AM Peter Black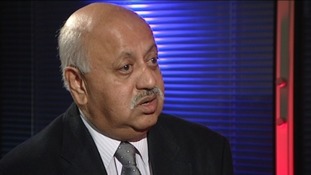 The former CEO of the now-defunct charity AWEMA defends himself against allegations of financial and managerial impropriety.
Read the full story
Load more updates
Back to top