Funding deal announced
The UK and Welsh Governments say they've reached a deal to stop further cuts in Wales' share of public spending. They've also agreed in principle that the Welsh Government should have borrowing powers.
'We WILL get borrowing powers' - Finance Minister
New borrowing powers agreed for major projects in Wales
The agreement, with the Westminster Government, is being seen as an important step on the path to further devolution. Our political editor Adrian Masters has been looking at what difference the change could mean.
Advertisement
Former cabinet colleagues clash over deal with Treasury
by Nick Powell
Finance Minister Jane Hutt received broad support from Conservatives and Liberal Democrats when she spoke in the Senedd about today's announcement of the Welsh Government's deal with the Treasury on funding and borrowing. But the former Deputy First Minister, Ieuan Wyn Jones was highly critical.
I can't join in this love-in. This is an awful deal. The Treasury have taken you to the cleaners
– Plaid Cymru Finance spokesperson Ieuan Wyn Jones AM
I have to ask -would you have got the Treasury on side? Get real, come on board.
– Finance Minister Jane Hutt AM

Today's statement from the two governments says a new funding settlement to replace the 30 year old Barnett formula is 'an essential precondition for any significant devolution of taxes' but that any borrowing powers will be subject to there being tax -or other- revenue to repay the loans.

Mr Jones claimed that the Welsh Government had failed to secure a key objective set out by the First Minister, that borrowing powers and tax raising powers would not be linked. Earlier, Ms Hutt had confirmed that discussions on paying for improvements to the M4 are 'at the top of the agenda'.
'Yes to borrowing powers' - Danny Alexander
It's a deal to be ashamed of say Plaid
Plaid Cymru says there's no detail on borrowing in the Welsh Government's deal with the Treasury. The party says there's also no clear commitment to reform the Barnett funding formula. The former Deputy First Minister, Ieuan Wyn Jones, says he would have been ashamed to have signed such a deal.
The Welsh Government entered into the bilateral discussions with the twin aims of securing borrowing powers and fixing the Barnett floor at 115% of spending in England. This statement shows that they have failed on both counts. Wales has already lost over 40% of its capital budget, and the economy is in crisis. We need to have borrowing powers immediately so that we can kick start the construction sector and boost jobs.
The Treasury's weasel words on borrowing show that they have failed to grasp the enormity of the economic crisis we face with 50,000 young people unemployed. The statement doesn't even tell us how much Wales will be allowed to borrow at some future unspecified date. The failure to agree a formula to fix the Barnett floor also shows that the Treasury is now clearly complicit in perpetuating the underfunding of Wales.
This announcement has the Treasury's paws all over it, and I can't understand why any First Minister of Wales would sign up to it. I would have been ashamed to have signed up to this weak and bland statement. There is no mention at all of the longer term need for a wholesale reform of Barnett.
– Plaid Cymru Finance spokesperson Ieuan Wyn Jones AM
Welsh budget 'hammered by Tories' say Labour
The Shadow Welsh Secretary Owen Smith says the possible borrowing powers for the Welsh Government need to be seen in the context of cuts in capital spending imposed by the UK government.
The Welsh Budget has been hammered by the Tory-led government, in particular, the forty per-cent real-term cuts to the capital grant. The acknowledgement that borrowing is vital to kick-starting infrastructure projects and the economy is to be welcomed. Welsh Government has also impressed on the UK Government the importance of potential convergence as a result of the Barnett squeeze and we will be holding the Treasury to account on their admission that this has unfairly reduced the Welsh Budget in the past and has the potential to do so again in future years.**
– Shadow Welsh Secretary Owen Smith MP
Advertisement
Working together benefits Wales say Welsh Tories
Welsh Conservatives say today's funding deal between the Welsh and UK governments contrasts with when Labour were in power at Westminster.
Today's announcement is a positive step forward for Wales. While it is clear there is much more work to do, this puts Welsh funding on the right track. It provides the reassurance we have sought and goes much further than anything Labour did in 13 years in power. The detail here shows what can be done when the UK and Welsh Governments work together. It is crucial that this continues for the benefit of Wales.
– Welsh Conservative Finance Spokesperson Paul Davies AM
Lib Dems say Welsh Government is gaining power -and responsibility.
The Welsh Liberal Democrats say the news that future public spending settlements won't involve further cuts in Wales' share of expenditure is a significant step towards putting an unfair system right. The Treasury has also agreed in principle to giving the Welsh Government borrowing powers.
Despite being in government for over a decade, Labour failed spectacularly to change the funding system for Wales. In two and a half years, Liberal Democrats in government have delivered more than Labour managed in thirteen – even when we are in coalition with a party that is reluctant to see powers and responsibilities leave London. The Welsh Labour Government must now understand that greater power involves greater responsibility. For too long this Labour Government has sat back and blamed Westminster for their own failings. This can't be allowed to continue.
– Welsh Liberal Democrat Finance Spokesperson Peter Black AM
Funding deal promises 'jam tomorrow'
by Nick Powell
The UK and Welsh Governments have reached an agreement on borrowing powers for Wales and changing how Wales' share of public spending is worked out. But it's very much an agreement in principle, the Welsh Government cannot yet raise any loans and there will be no immediate change on funding.
The UK Government says it accepts that the Welsh Government should borrow money for construction projects but there must be the revenue to pay for it. There will be no decision on tax raising powers until after the Silk Commission has recommended what taxes, if any, should be devolved to Wales.
Talks are continuing about how to pay for specific projects, notably relieving congestion on the M4 around Newport. Last year, the Chancellor suggested that toll revenue from the Severn Bridges could be used to repay a loan once the cost of building the Second Severn Crossing has been met.
Today's announcement agrees in principle to devolved capital borrowing powers for the Welsh Government. This is an important step forward on the devolution journey for Welsh people, and will bring them significant benefits. I am delighted that the two Governments have worked closely together to deliver this good outcome for Wales.
– Chief Secretary to the Treasury Danny Alexander MP
The statement we are publishing today includes a new commitment by both Governments to review the path of Welsh relative funding at future Spending Reviews. I welcome the in principle devolution of capital borrowing powers, which should give the Welsh Government an additional lever to generate economic growth.
– Welsh Finance Minister Jane Hutt AM
I hope that today's announcement will reassure the people in Wales of the progress both Governments have been making on Welsh funding arrangements. In addition to the in principle capital borrowing powers, the UK Government has recognised the concern in Wales about long term convergence and is committed to investigating options to address it once it resumes. The commitments made today establish a strong basis from which to work with the Welsh Government after the Silk Commission reports to me next month.
– Welsh Secretary David Jones MP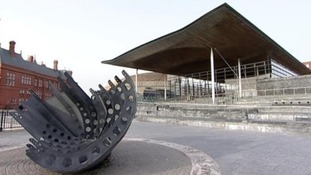 The UK Government agrees to stop further cuts in Wales' share of public spending. It also agrees in principle to Welsh borrowing powers.
Read the full story
Back to top