New Wylfa plant?
Japanese electronics giant Hitachi completes its purchase of nuclear power project Horizon, which could lead to the construction of a new plant on Anglesey.
Japanese electronic giant Hitachi confirms it has completed its purchase of Horizon Nuclear Power, which operates Anglesey's Wylfa Power Station.
The initial announcement was made at the end of October.
As part of the deal, the companies will make "a multi-billion pound investment" in training engineers and staff for a new nuclear power station on the island.
Horizon says 6,000 construction jobs will be created, with 1,000 people employed when the new plant is completed.
We're delighted that the deal has completed. It secures the future of Horizon and represents a real economic opportunity for North Wales. Our project

will be a multibillion pound investment, creating around 6,000 construction jobs at peak, and 1000 operational jobs when completed.

In the meantime, I'm delighted to confirm a third year of funding for the cohort of apprentices going through the Coleg Menai scheme.
– Alan Raymant, Horizon Nuclear Power

Horizon was created in 2009, as a joint venture between E.ON UK and RWE npower.
Joanna Simpson reports.
Advertisement
Plaid Cymru has issued a carefully worded statement reflecting the conflict between the party's opposition to nuclear power and the support for a new Wylfa power station from most of the party's members on Anglesey including the AM for Ynys Mon, the former Plaid leader, Ieuan Wyn Jones.
The news regarding Hitachi and Wylfa has been welcomed by local Party of Wales representatives and the party will, at a local and national level, continue to press for job training and creation schemes that benefit the local economy and local people. However, the Party of Wales favours a non nuclear energy plan for Wales and we remain opposed to new nuclear plants. Our long term vision is for Wales's needs to be met through energy generated from the abundant renewable resources that are naturally available to us. We want to see the decision making powers over these issues devolved to Wales.
– Plaid Cymru Spokesperson

Plaid Cymru's leader, Leanne Wood, recently stated that the party has always opposed new nuclear power stations on new sites but gives Plaid's representatives on Anglesey the right to make up their own minds on building new stations on existing sites, balancing environmental concerns with jobs.
Leanne Wood's silence on this today says it all. We know that as a party Plaid are anti-nuclear, and we know that their leader is anti-nuclear. Today's announcement securing employment for 6,000 people and providing job security in the longer term is great news for Anglesey and north Wales. Leanne Wood has turned her back on hardworking families on Anglesey. It's clear that her 'economic vision' for Wales does not extend as far as Anglesey.
– Shadow Welsh Secretary Owen Smith MP

The Labour MP for Ynys Mon, Albert Owen, has also supported a new nuclear power station but does not have the backing of all his colleagues. The Newport West MP Paul Flynn asked earlier this year if stopping a new reactor at Wylfa was an argument in favour of an independent Wales.
The #Wylfa deal will mean up to 6,000 construction and 1,000 long-term jobs, as well as making a huge contribution to UK energy security
@davidjonesmp delighted with Wylfa news glad we finally got there
Friends of the Earth Cymru have spoken out against the announcement that Japanese company, Hitachi, will be building a nuclear power plant on Anglesey.
The environmental charity has raised concerns about the competency of the company to build a power station after it was responsible for designing the plant involved in the Fukushima disaster.
This is turning back the clock for Wales. Nuclear power is an expensive technology from the past that generates highly toxic nuclear waste that will be sitting around in Anglesey for the next 150 years.

The only viable future is one that's powered by renewables. Investment in the nuclear red herring diverts scarce resources from the renewable revolution that is already providing tens of thousands of jobs right across Wales.
– Gareth Clubb, Director of Friends of the Earth Cymru
First Minister, Carwyn Jones AM, has described the decision by Japanese electronics company, Hitachi, to buy the nuclear power project Horizon, as "very good news" for Wales.
According to Hitachi, between five and six thousand jobs could be created during construction and a thousand permanent posts when it is up and running.
The First Minister says the move will help to "secure our energy supply in the future."
This is very good news for Wales and the UK. The potential benefits of a new nuclear development on Anglesey would be substantial - not just in creating thousands of highly skilled jobs and boosting the supply chain - but in helping to secure our energy supply in the future.
– Carwyn Jones AM, Wales' First Minister
Advertisement
This is an important development which represents a significant step forward in terms of securing a new power station on Anglesey. More importantly, it's a major step towards realising significant local job creation and investment in the Anglesey economy, as well as wider benefits for the North Wales region.

I'd like to congratulate Hitachi Ltd. and welcome them to Anglesey. The County Council, through its Energy Island Programme, looks forward to building a long and fruitful working relationship with Hitachi Ltd. in order to maximise local benefits for Anglesey and its communities.
– Cllr. Bryan Owen, Isle of Anglesey County Council Leader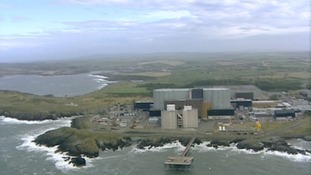 Electronics giant Hitachi has announced it will buy nuclear power project Horizon, which includes a plan to build a new plant on Anglesey.
Read the full story
This is very good news for Wales and the UK. The potential benefits of a new nuclear development on Anglesey would be substantial - not just in creating thousands of highly skilled jobs and boosting the supply chain - but in helping to secure our energy supply in the future.

We will continue to work closely with the UK Government and with Hitachi to secure this investment for Wales.
– Carwyn Jones AM, First Minister
Terrific news for the people of Anglesey: #Wylfa purchased by Hitachi
The #Wylfa deal will mean up to 6,000 construction and 1,000 long-term jobs, as well as making a huge contribution to UK energy security
Load more updates
Back to top