'Key evidence not heard'
A man who was abused whilst living in the Bryn Estyn care home near Wrexham in the 1970s and 80s, has apologised to a Conservative peer for wrongly identifying him.
Today's report comes amid fresh allegations about the Bryn Estyn children's home near Wrexham in the 1970s and '80s. Yesterday the Home Secretary Theresa May urged anyone with information to go to the police. The National Crime Agency will now investigate.
The Chair of the Education Select Committee, Graham Stuart, says getting professionals from different agencies, such as police, health, and social workers, to train together will make it easier for people to blow the whistle on any signs of child abuse they might uncover.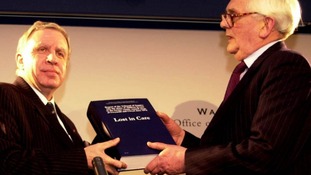 Sir Ronald Waterhouse's inquiry took years and cost millions of pounds, but did it ask enough questions about the abuse of children in care?
Read the full story
Advertisement
For many victims hearing the name Bryn Estyn again in the news has brought back terrible memories. Some have never spoken publicly about what happened to them at the carehome.
Some of those victims have contacted ITV Wales to tell their experience in the hope others may now come forward.
Rob Osborne has been hearing their stories.
Following a meeting with the First Minister, Carwyn Jones, the Children's Commissioner Keith Towler said;
I am grateful for the First Minister's time. We had a constructive dialogue. I was encouraged by the First Minister's commitment to protect children and young people's welfare, his pledge to listen to evidence and his pledge to place the voice of victims at the heart of any inquiry or investigation,

At the meeting I set out how I intend to liaise with the Home Office to seek clarification of the terms of reference of the investigations announced today and to clarify what role, if any, my office will have.

It is important that these investigations maintain a Wales focus.
– Children's Commissioner for Wales, Keith Towler

Mr Towler went on to add that he would expect that the Welsh Government would also engage in these discussions with the UK Government.
Whilst we both acknowledge that there have been encouraging developments since the Waterhouse inquiry, I believe there are too many unanswered questions, including why some victims who gave evidence to the Waterhouse inquiry feel they weren't listened to at the time. We both feel committed to doing the right thing by the victims.

My independent advice and support service has been handling calls over the last 48 hours from those with concerns or seeking advice. Those wanting to make contact can do so by phoning 0808 801 1000 Monday to Friday between 9am and 5pm
– Children's Commissioner, Keith Towler
Ian Lucas MP has spoken to ITV about how there has always been a 'cloud' over the Waterhouse inquiry and questions about whether it went far enough.
Following a meeting with the Children's Commissioner for Wales, Keith Towler, the First Minister of Wales, Carwyn Jones had this to say ;
The meeting was very useful as it was important for me to meet with the Children's Commissioner as soon as possible to hear his views on the very serious allegations that have come to light over the past few days. We are determined to do what it takes to get to the truth,

Both of us fully recognise that the care of children and young people and the voices of the victims of child abuse must be central to the investigations underway.

We also recognise progress has been made as a result of the recommendations in the Waterhouse Inquiry not least the creation of the Children's Commissioner for Wales
– First Minister,Carwyn Jones AM

The First Minister went on to add;
During our talks, Keith Towler confirmed that his office is actively dealing with a number of people who have contacted him since the weekend.

The office of the Commissioner is wholly independent and that is why I would again urge anyone who has any relevant information or concerns to come forward and contact Keith and his team.

Keith Towler will now meet with representatives appointed by the UK Government to understand further their proposed course of action and explore what role his office could have in the process..
– First Minister, Carwyn Jones AM

Carwyn Jones has pledged to keep in close contact with the Commissioner over the coming days and weeks to agree the appropriate course of action,
Advertisement
Former Wales Office and Policing Minister David Hanson MP has spoken to Political Editor Adrian Masters and says the Home secretary needs to look at why we have so many inquiries going on. Common threads need to be looked at throughout all these cases.
Speaking at FMQ'S Carwyn Jones snubbed Leanne Wood who earlier in the week had said that some abuse victims might prefer to tell their story to female Assembly members instead of talking to the police
After the meeting Mr Messham said he felt 'fairly optimistic' about what would happen next. But he added that he was not confident about how a second inquiry would be conducted.
Load more updates
Back to top