AMs quiz First Minister
First Minister Carwyn Jones is questioned by a group of Assembly Members about his government's legislative programme and what it's doing to promote enterprise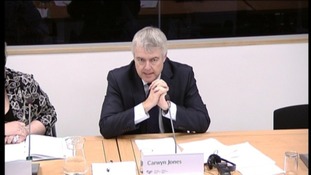 First Minister Carwyn Jones gives evidence to the Assembly's Scrutiny of the First Minister committee
Read the full story
Carwyn Jones told AMs on the Scrutiny of the First Minister Committee that there will inevitably be times when the UK and Welsh Governments disagree about how much power Welsh ministers have. But he said he hoped those occasions would be 'infrequent.'
He was asked by Liberal Democrat AM Eluned Parrott about a recent decision by the UK Attorney General to refer the Welsh Government's first bill to the Supreme Court.
Advertisement
Carwyn Jones has acknowledged that his government could do more to involve organisations and members of the public when it draws up Welsh bills. He told members of the Scrutiny of the First Minister committee that 'this is a system we had to learn.'
In written evidence given to the committee in advance he'd previously said:
I accept that we may not have always got this aspect of our legislative preparations quite right and some of our stakeholders feel we could do more to engage with them at an earlier stage.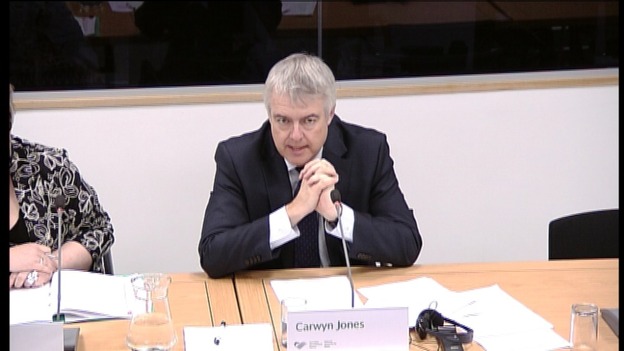 The First Minister has acknowledged that Welsh Government civil servants need more experience drawing up bills. He's told a group of AMs questioning him about his government's legislative programme that the loss of 1,000 civil servants has made the job of developing legislation 'challenging.'
Carwyn Jones told the committee that despite that he's seen 'no problems' in drafting or developing policy. But in written evidence given to the committee in advance, he said:
However I recognise that the capacity and capability of our civil service to deliver the legislative programme needs to be strengthened. There are fewer officials than there were before, and many of them have not developed primary legislation before. For those that have legislative experience this has generally been in the context of working with Whitehall Departments on legislation to be passed by Parliament for or in relation to Wales.
Conservative AM Paul Davies asked if one recent bill which was accompanied by 140 government amendments was evidence that legislation wasn't being drawn up properly. The First Minister said that was normal practice in Westminster as legislation went through Parliament.
Back to top