'Moderate' drinking impact
It's the start of Alcohol Awareness Week, and health chiefs say alcohol-related illnesses are putting a strain on the NHS in Wales. Professionals are four times more likely to develop alcohol problems than the unemployed, according to campaigners
Dr Ruth Hussey says that there's an alarming increasing trend in harm related to alcohol and it's costing too much.
The 'Change 4 Life' campaign recommends lifestyle changes to help reduce the amount of alcohol we drink.
You can still enjoy a drink, just have less
Instead of a strong beer or wine, have one with a lower alcohol content
Try adding a mixer to make it last longer
Take a break between drinks and have a soft drink in between to help you stay hydrated
Try only drinking at home with your main meal
Health experts say you will feel the benefits of drinking less very quickly.
Feeling better in the mornings
Having more energy and feeling less tired during the day
Your skin may start to look better
You'll start to feel in better shape
You may stop gaining weight or lose some pounds
There are also suggestions of how to relax and unwind without having a drink.
pampering yourself with a bath
sipping a cup of herbal tea
rediscovering your music collection
catching up with an old friend on the phone
walking the dog
starting a new hobby
going for a run, a swim or a bike ride
joining a club, gym or five-a-side team
treating the family to a day out
Advertisement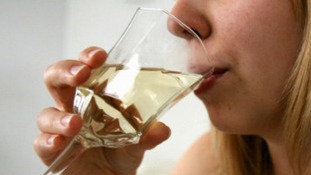 At the start of Alcohol Awareness Week, health chiefs say that alcohol-related illnesses are putting pressure on the NHS in Wales.
Read the full story
Back to top