Schools shake-up debate
Education Minister Leighton Andrews says local councils in Wales could lose responsibility for the running of schools.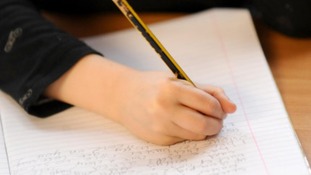 The former leader of Cardiff Council says councils would be "emasculated" if they lost responsibility for education.
Read the full story
Gaynor James, who runs a youth cafe in Blaenau Gwent, says some children are slipping through the net.
Advertisement
David Swallow, the ex-headmaster of Barry Comprehensive, says schools need support.
The Welsh Local Government Association says councils should not lose control of schools. The WLGA has responded to the review announced by the Education Minister, Leighton Andrews, saying that although there are major issues, LEAs are functioning 'to an optimum level' to serve pupils' interests.
The WLGA is vehemently opposed to any proposal that suggests education should be taken out of local authority control. This will fundamentally damage the principle of local democratic control and accountability, and undermine the ability of local communities to shape the educational future of young people.
The WLGA is already working closely and positively with the Education Minister, who has met the 22 leaders on numerous occasions and only last week addressed the 22 Cabinet Members for Education across Wales. The Association has fully agreed with the major elements of the Ministers 20 action points and has indeed met many of its obligations including the delegation of 80% funding to schools, the banding of schools and the establishment of four School Improvement Consortia.
– Cllr Bob Wellington, Welsh Local Government Association
Plaid Cymru's Education Spokesperson Simon Thomas has claimed that the review of how schools are run is an admission of the failure of consecutive Labour ministers to ensure high standards. He added that it is wrong only to blame the local education authorities.
It is widely agreed that educational standards across Wales need to be improved and I am glad that the Minister has opened this debate. The announcement is an admission that Labour has let down children and young people over the years and it is to be welcomed that the Minister is now taking steps to address this. However, I have warned the Minister that holding a consultation after an internal review group has met is too late. To have a fully open discussion we need a full consultation up-front.
My biggest concern with this announcement is that the Welsh Government could be using education as a wedge to drive through local government reform. Education cannot be used as an experiment on how reform can be delivered, and in this respect I think that is approach is not the best one. A Party of Wales Government is committed to improving the standard of education throughout Wales but the approach needs to be a balance between leadership from the Welsh Government and local accountability.
– Plaid Cymru Education Spokesperson Simon Thomas AM
Shadow Education Minister Angela Burns AM has claimed that Leighton Andrews' announcement is 'an astonishing admission of failure'. She accused the Education Minister of a blame game, that he was saying poor standards in schools were the fault of everyone but the Welsh Government.
Labour Education Ministers have been running the Welsh education system for 15 years and must take responsibility for declining standards. Welsh Conservatives have lobbied for years for direct funding of schools to eliminate waste and deliver more cash to schools. While we welcome the Minister's consideration of direct funding, his other plans suggest creeping centralisation of power in his hands at the expense of schools and local authorities.
Given how poor Labour's policies and performance have been to date, we must question whether further centralisation really is the best way forward. Instead of blaming others and threatening to emasculate local authorities and centralise control, the Minister should co-operate constructively with councils and schools to share best practice and promote collaboration.
We have massive problems of underperformance in our education system, but we need a level-headed evidence-based approach to driving up standards not a bull in a china shop.
– Shadow Education Minister Angela Burns AM
Advertisement
Education Minister Leighton Andrews has announced the most radical shake-up in the way schools are run in 110 years. A review of the delivery of education services will look at what should be undertaken at school, local authority, regional and national level. It will look at a range of options:
A regional system, with the review setting the regional boundaries.
Moving school improvement from local authorities to a Welsh Government regional service.
Merging council education services, with counties providing joint management.
Removing all education functions from local government
They have rarely used their powers of intervention to address failure when it arises in schools. I and the Minister for Local Government have repeatedly called upon local authorities to make joint appointments when vacancies arise. In respect of posts for Directors of Education and Chief Education Officers, this has largely fallen on deaf ears.
I have said repeatedly I would not have invented 22 local education authorities. I have also said that the fragmentation of education authorities in the mid-1990s was one of the contributing factors for the downturn in educational performance a decade later, as effective challenge and support was lost in many parts of the system and time, energy and resource was dissipated. I have given local authorities time and money to get their house in order but the evidence is overwhelming that this has not occurred.
– Education Minister Leighton Andrews AM

LEAs were first created in 1902. They were reduced to just eight in 1974 but increased to 22 in 1996. The review will report by next March. Mr Andrews said 15 reports from the schools inspectorate, Estyn, on the performance of individual local authorities had demonstrated the need to take action.
Anglesey – in special measures, with an intervention board appointed.
Blaenau Gwent – in special measures, run by commissioners.
Pembrokeshire – in need of significant improvement under direction of a Ministerial Board.
Wrexham, Cardiff, Flint, RCT and Caerphilly - adequate
Mr Andrews said 'adequate' meant barely good enough. Two authorities -Torfaen and Powys- had shown significant improvement and five -Newport, Conwy, Denbigh, Carmarthen and Neath Port Talbot- were 'good'. None were 'excellent', though not all councils' reports have been published yet.
The Education Minister, Leighton Andrews, is due to tell AMs how he wants education to be delivered in future. Welsh Government sources say it will be a 'significant' announcement. Mr Andrews has been encouraging councils to share resources by forming schools consortia.
Back to top