584 Tata jobs to go
The steel maker has announced that several Welsh sites will close, and the majority of the jobs look set to be lost at its Port Talbot base.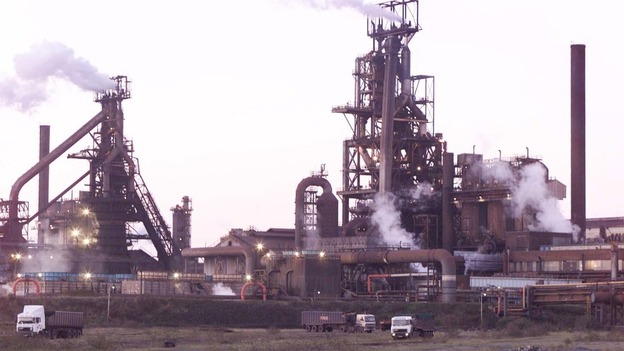 Tata says its plan to cut 900 jobs and shut 12 sites across the UK form part of its 'transformation strategy' to increase growth.
It says demand for steel within the Euro bloc had fallen by 25% since 2007, and is forecast to slump by another 10% this year.
For more details, visit the ITV News site.
Shadow Welsh Secretary Owen Smith says government intransigence on helping Tata with is high energy costs has contributed to today's 580 job losses at Port Talbot steelworks and other sites in Wales.
The news that Tata is cutting around 900 jobs across the UK, including almost 600 in Wales, is a bitter blow especially after the recent good news that the company intends to invest in its Welsh operation.
I am deeply concerned at the government's intransigence in the face of repeated calls from companies such as Tata about the challenges that high energy costs and uncertainty over government policy are posing. Whilst it's encouraging to see that the Wales Office has now engaged and are to meet with Tata, it would have been far better if David Jones and the Wales Office had been meeting with the company previously to discuss their concerns over high energy costs.
– Shadow Welsh Secretary Owen Smith MP
Advertisement
Port Talbot's MP Hywel Francis will meet management and union leaders at the Tata steelworks following the announcement of 580 job losses in Wales.
This is grim news for over 500 workers and their families, especially just before Christmas. The news that the blast furnace will be relit does not reduce that pain but Tata's long-term commitment to Port Talbot is reassuring. I am working with the company to solve the problem of its high energy costs.
– Hywel Francis, MP for Aberavon
The Secretary of State for Wales says he been "assured that Tata remains committed to having a strong presence in Wales and the UK as a whole."
The news that Tata is expected to light Blast Furnace 4 in the first quarter of 2013 is welcome news, as is the the creation of 120 new jobs at the hot strip rolling mill at Llanwern and 65 new jobs at its distribution centre.

However, the loss of over 500 jobs in Wales is a short and sharp reminder of the challenges facing businesses globally. Both Governments in Whitehall and Cardiff need to be relentlessly focused on the economy and I am committed to working with the Welsh Government to ensure we succeed in this area.
– David Jones MP, Secretary of State for Wales
Describing this morning's job losses as "very disappointing", a Welsh Government spokesperson called on the UK Government to do more to clarify its energy policy.
Tata's decision reflects the serious and ongoing challenges faced by manufacturing industries during these very difficult economic times. In addition to these challenges, it is clear that high energy costs and uncertainty over UK Government energy policy are having a significant impact on business investment decisions.

As a Government, we have warned for some time of the need for these costs to be reduced.

Despite today's news , Tata's commitment to relight Blast Furnace 4 at Port Talbot and restart the Hot Mill at Llanwern illustrates the company's continued belief in its Welsh workforce.
– Welsh Government spokesperson

The Welsh Government added it would now work with Tata "to establish a task force" and determine would support could be provided for those losing their jobs.
Although a number of jobs are expected to be lost at Tata's Port Talbot site - specifically in engineering, technical and operations - the site's Blast Furnace 4 is likely to be relit by the end of the first quarter of next year.
Advertisement
As part of the plans, the company will close the following sites in Wales.
Tredegar Tafarnaubach - 76 jobs to go
Caldicot distribution centre - 55 jobs to go
Cross Keys colour steel - 87 jobs to go
The mothballed hot strip mill at Llanwen will reopen, creating 120 jobs. The site will also become a 'distribution hub', sharing in a £22 million investment with five other hubs.
Steel giant Tata is to cut 584 jobs at its Welsh sites, it has announced this morning.
Load more updates
Back to top