Pobol y Cwm controversy
The Welsh Government makes an official complaint to the BBC and S4C over the repeat of an episode of soap 'Pobol y Cwm', which it claims failed to show 'due impartiality' over a storyline about bovine TB.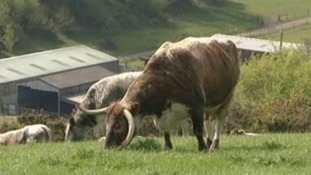 The Welsh Government is under fire for trying to stop the broadcast of a television programme that touched on the bovine TB controversy.
Read the full story
We take all complaints very seriously. We are aware of this complaint and are currently looking into it
– BBC Cymru Wales spokesperson
Advertisement
The Farmers' Union of Wales is calling for the Welsh Government to apologise following its complaint over an episode of 'Pobol y Cwm'.
The programme made comments which were very derogatory for farmers but we have not received a single complaint because our members understand they were made by a character in a soap opera and should be taken in context because these are not real people.

For the Welsh Government to formally ask for censorship of a soap opera because it contains characters criticising them is not just an overreaction, but a major concern for anyone who believes in having a media free from political censorship by the ruling government or anyone else.
– Emyr Jones, President FUW
S4C has now received a copy of the Welsh Government's complaint to the BBC regarding a storyline on last night's Pobol y Cwm.

We are satisfied that the drama includes a variety of viewpoints which reflect the public debate about plans to eradicate Bovine TB.

Last night's episode will be repeated as planned this evening at 6.30pm on S4C, and is available to watch on demand on Clic.
– Dafydd Rhys, Director of Content, S4C
A spokesperson for the Welsh Government confirms an official complaint has been made to the BBC and S4C following the repeat broadcast of an episode of 'Pobol y Cwm', which it believes included 'a serious breach of BBC and Ofcom guidelines'.
The episode concerned involved a storyline including a discussion about bovine TB, and the Welsh Government's decision to cancel a planned cull of badgers in March.
The BBC's editorial guidelines are clear that programmes are expected to ensure that 'controversial subjects' are treated with due impartiality in all their output. We do not believe this to be the case in this instance.

The BBC's guidelines also state that organisations criticised in programming "should be given a "right of reply", that is, given a fair opportunity to respond to the allegations." In this case, the Welsh Government was not afforded a right of reply.

We have submitted a complaint to BBC Wales. It would be inappropriate to comment until we receive their response to our concerns.
– Welsh Government spokesperson
Back to top