South Wales flood recovery
The clear up continues following Saturday's heavy rainfall.
Dyfed Powys Police: '25 properties flooded'
Dyfed Powys Police say they've dealt with around 40 to 50 flooding related incidents today.
Approximately 25 properties have been damaged by floods, in areas such as Llanelli, Bury Port, Pembrey, Furnance, as well as parts of Swansea, Skewen and Neath.
Five flood warnings in place across Wales
"It's not stopped" said Vale of Glamorgan resident David Apjohn-Williams.
"The rain's been coming down through the fields, and down through the stream as well".
Five flood warnings are currently in place across Wales.
Advertisement
Fire service: Flooding reported in Neath, Swansea and Llanelli
Flooding in Boverton, Vale of Glamorgan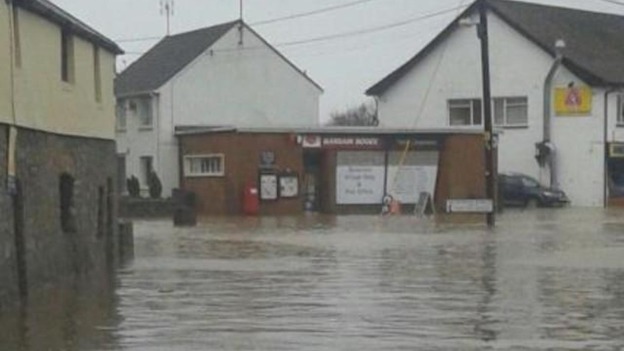 Flooding in Llancarfan, Vale of Glamorgan
The extent of flooding in Llancarfan, captured on video earlier today.
Very wet and windy weather causing floods in parts of Wales
by James Wright
Parts of south Wales have seen around another 1.5 inches (32mm) overnight and that's on top of the rain that fell late last week. The ground is already saturated leading to many examples of localised flooding. There are also a number flood warnings on rivers around Wales.
The Met Office has a yellow warning in force across the whole of Wales, but counties between Carmarthenshire and Monmouthshire have an amber warning in force. The coastal district around north Ceredigion and south Gwynedd also has an amber warning for heavy rain.
This afternoon after a lull in the rain, the wet weather will return with the possibility of another 40-60mm (around 2 inches) of rain possible. A very mild afternoon with highs of 12-13C but it's windy too.
After a wet evening across the country, the rain will push northeast leaving a drier night.
There will be some showers around though and it will be very windy and mild. Milder overnight than we'd expect for daytime highs at this time of the year.
Tomorrow will be brighter in the north but a risk of seeing yet more rain pushing to southern parts of Wales later in the day.
Advertisement
Flooding in Rhoose, Vale of Glamorgan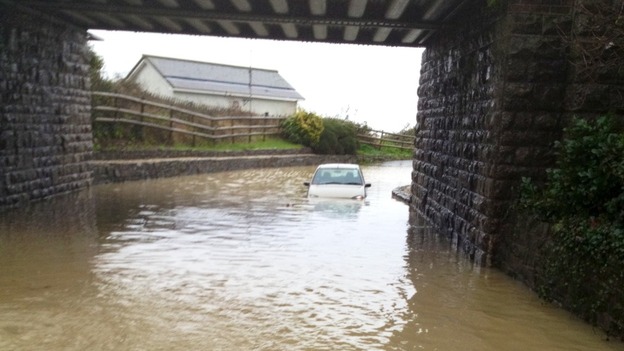 Arriva Trains Wales: "avoid travelling where possible"
We are advising customers not to travel where possible owing to severe weather related disruption. Keep in touch here: http://t.co/UMrUOsw6
From
@ArrivaTW
on Twitter:
We apologise to customers for the difficult conditions today, and thank everyone affected for their patience and understanding.
From
@ArrivaTW
on Twitter:
Flood warnings: River Ewenny, River Solva, Lower Dee Valley
Environment Agency Wales confirms flood warnings are in place in the following areas:
River Ewenny at Ewenny Village
River Ewenny at Pencoed
River Solva at Solva
Lower Dee Valley, from Llangollen to Chester
Dyfed Powys Police: 'flooding in several areas'
A spokesperson for Dyfed Powys Police confirmed the force has received reports of flooding across its region, notably around Marsh Road in Tenby, M48 Junction 48 around the Hendy slip road and at the Narbeth Bridge in Pembrokeshire.
Load more updates
Back to top