Secondary school banding
The Welsh Government have published the latest banding data for secondary schools in Wales
Welsh teachers' unions have made a fresh attack on the controversial system of putting secondary schools into bands based on their educational performance.
It comes as figures are published showing this year's achievements across more than 200 Welsh schools.
The NASUWT has been consistently arguing that the banding process would be divisive, crude and over simplistic ever since it was first mooted by ministers.

As the NASUWT predicted, the banding system has simply enabled schools to be crudely ranked in a quasi league table without full consideration of their circumstances and the context in which they are working.

The banding system fails to provide any genuinely meaningful information about how either schools or the education system as a whole in Wales is performing.
While it is important that schools are held accountable for their performance and that there is a mechanism by which schools most in need of additional support can be identified, the NASUWT believes that banding does nothing to genuinely aid schools to improve.

Schools and teachers are constantly striving to raise standards but are being met with constant criticism and denigration of their efforts.

The publication of these banding scores will exacerbate the rapid decline in teacher morale and will deepen the sense of frustration and anger being felt by many teachers and school leaders.
– Chris Keates, General Secretary of the NASUWT
Advertisement
A headmaster who's school has fallen from Band 1 to band 4 in one year says the system is questionable.
Gwyn Tudur of Ysgol Tryfan, in Bangor says his school is being punished for it's exceptionally good performance in 2011.
We are obviously disappointed the system of branding is high profile but it is a limited view of a school, parents I think, have a much more holistic apparoach.

Banding takes only one year's performance into consideration and I question the value of it because of the effect on moral of people in the profession and any system that has such inconsistent results.

Jumping from 1 to 4 or from 5 to 2 – is that a true indicator of a school's position?
– Gwyn Tudur, Headmaster at Ysgol Tryfan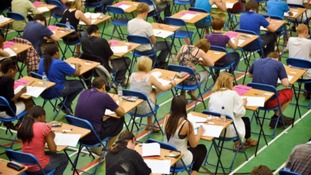 This year's full banding results have been published by the Welsh government.
Read the full story
Back to top