Young people 'cannot cope'
More than one in ten young people in Wales feel they cannot cope with day-to-day life, according to a report by the charity The Prince's Trust.
11% of young say they feel they can't cope
The New Year can be a depressing time for many people, with credit card bills from Christmas and the ongoing gloomy weather. A new report warns how many of our young people especially are struggling to cope.
The Prince's Trust has revealed the battles being faced by thousands of Welsh youngsters who haven't got jobs and aren't in training. Helen Callaghan has the story of one young man who's seen the rough times but managed to turn his life around.
'I thought, what am I going to do with myself?'
Daniel McGuire knows what many young people struggling with their employment prospects are going through. He left school at 15, was homeless at 18, and had real difficulties getting work.
He remembers being 'annoyed, depressed, angry' and hugely frustrated at being knocked back when applying for jobs. He's now an ambassador with the Prince's Trust.
Advertisement
Prince's Trust: Job worries affecting young people
The Prince's Trust research shows that it's most often job worries and employment prospects which cause young people here to feel under pressure or demoralised.
Antony Metcalfe from the charity says that 'even young people who are in work are concerned about having a long-term future within the world of work', due to 'a very very fragile job market.'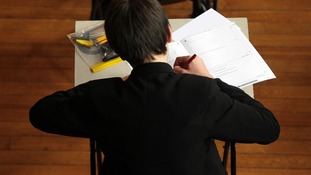 The research from The Prince's Trust Cymru shows the recession may be to blame
Read the full story
Back to top