Bullied since the age of seven
A member of Only Boys Aloud, a choir based in the South Wales Valleys, has spoken out about being bullied since the age of seven.
Cyber bullying: Only Boys Aloud member shares his story
Shocking figures have been released on the number of our children and young people who are being bullied online.
The information comes from the Princes Trust. They've found 14% of youngsters report being bullied online. 20% of youngsters say they've seen more bullying online than in person
39% of the youngsters have friends online who they've never met face to face.
ITV Wales has been hearing from one young victim, who's a member of the celebrated Welsh choir, Only Boys Aloud.
You can see more on tonight's edition of 'Hacio' - on S4C at 9.55pm.
Only Boys Aloud's Morgan Westcott shares cyber-bullying story
The modern world of reality TV and social media has helped make a star of Morgan Westcott - a singer in choir Only Boys Aloud - but it's also made him a victim of cyber bullying.
It comes as figures released by The Prince's Trust show one in five young people have been bullied online.
You can see more on our current affairs programme 'Hacio' - on S4C at 9.55pm tonight.
Advertisement
Only Boys Aloud singer: The bullying 'knocks my confidence'
A member of the Only Boys Aloud choir, Morgan Westcott, speaks out about how cyber-bullying "knocks his confidence."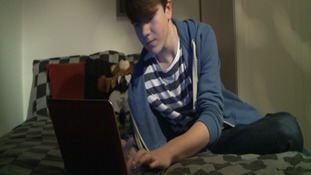 Morgan Westcott, a member of Only Boys Aloud, has spoken to ITV Wales about his experiences of cyber-bullying.
Read the full story
Back to top