Jobs at risk on Anglesey
350 jobs are at risk after Welsh Country Foods announced its site on Anglesey faces closure.
Workers, farm bosses and community leaders are planning a campaign to try to save 350 jobs at at lamb processing plant on Anglesey.
It follows a decision by the supermarket chain Asda to stop using facilities at Welsh Country Foods at Gaerwen.
The supermarket says it has made its decision on 'commercial grounds'.
Our business correspondent Carole Green reports from the island.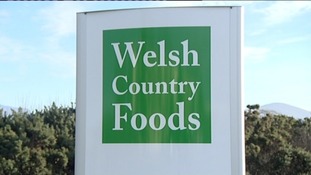 The leader of Anglesey Council will hold a meeting later today to discuss the possible closure of a meat processing plant on the island.
Read the full story
Advertisement
Representatives from Vion Foods, the parent company of Anglesey firm Welsh Country Foods, are meeting ASDA representatives today.
It follows an announcement that the supermarket had ended its order for lamb, putting 350 jobs at risk.
Vion Foods can confirm that representatives of its senior management team are meeting with ASDA today (Thursday 17th January) under the provisions of the Grocery Supply Chain Code of Practice (GSCOP).

Throughout the 90 day consultation period we are committed to exploring every opportunity to retain and attract customers for WCF. Thursday's discussion with ASDA under the GSCOP is part of that process
– Vion Foods spokesperson
350 workers could lose their jobs because the supermarket chain Asda has pulled a major order. Welsh Country Foods has started a ninety day consultation process with its staff at Gaerwen on Anglesey
Rob Shelley reports.
Jamie Pritchard, the Unite union officer for Welsh Country Foods, says workers are hopeful that Asda will decide against pulling out of its Welsh lamb order with them.
Asda, the supermarket chain, has said that it remains "committed to sourcing lamb from Wales".
It follows news that the company has pulled its order from Welsh Country Foods, putting 350 jobs at risk.
Asda said the decision "was not taken lightly."
Following a strategic review of our lamb business we have taken the decision to serve notice on our supply relationship with Vion-owned Welsh Country Foods, Gaerwen Anglesey.

This decision was not taken lightly, however we feel it is an opportune time to review our lamb sourcing to meet the changing needs of our customers. We have built a strong relationship with Welsh lamb farmers and we remain committed to sourcing lamb from the country.
– Spokesperson for Asda
Advertisement
A Welsh Government spokesperson described the Welsh Country Foods announcement as "very disappointing" and said the company had been offered support to develop the site.
The offer of support remains on the table and may be extended to any potential new owner.

The Welsh Government will be discussing this development with the chairman of VION UK Ltd early next week and will also engage with the site's key customer to ensure that there is a clear understanding that Welsh Country Foods has the full support of the Welsh Government.

This announcement comes at a time when the company is determining its future direction in light of the decision by its parent company to sell all UK asset.
– A Welsh Government spokesperson
Anglesey councillor Eric Jones says Anglesey has lost a lot of jobs over the years, but nothing seems to be coming in.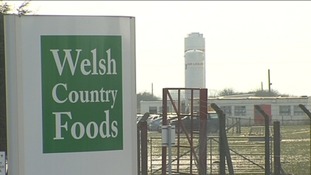 Around 350 jobs are at risk in Anglesey after Welsh Country Foods announced it has lost its key customer
Read the full story
Prys Morgan from Welsh Country Foods says it's been a difficult day for staff at the Anglesey site.
Load more updates
Back to top