MPs vote to allow gay marriage
MPs have backed David Cameron's plan to legalise gay marriage by 400 votes to 175, a majority of 225. All eight Conservative MPs in Wales voted against the bill.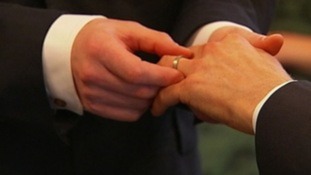 Welsh MPs have voted on proposals to make same-sex marriage legal. Here's a breakdown of how each one voted.
Read the full story
All eight Welsh Conservative MPs and two Welsh Labour MPs have voted against plans to make same-sex marriage legal. Welsh Secretary David Jones was one of the few cabinet members to vote against but won't be disciplined because Tory MPs had been allowed a free vote.
Liberal Democrats, Plaid Cymru MPs and most Labour members voted for the bill.
Advertisement
Former Welsh Secretary Paul Murphy is understood to be the only Welsh Labour MP to vote against gay marriage plans.
I have supported a great deal of legislation over the years to oppose discrimination and give proper legal rights to people, regardless of their sexuality.

I support civil partnerships and very much oppose homophobia in any form.

However, I feel that this is primarily about the definition of marriage – something which I care greatly about as a Christian.

I must say that I've found some of the hyperbole and name-calling, from both sides, rather disappointing.

I am glad that a free vote has been allowed, so that MPs of all points of view can weigh up the issue and come to their own conclusions.
– Paul Murphy MP, Former Welsh Secretary
It's not yet clear how Welsh MPs voted in tonight's vote on same sex marriage.
All eight Welsh Conservative MPs were expected either to have abstained or voted against the measure along with one Welsh Labour MP.
National
MPs have voted in favour of the Marriage (Same Sex Couples) Bill with a majority of 225.
The second reading vote received 400 Ayes to the right against 175 Noes to the left.
The Commons has now cleared for the second time as MPs return to the lobby to vote on the timetable of the motion - setting out how the Bill will proceed through the House.
Montgomeryshire MP Glyn Davies is voting against the proposals to introduce same-sex marriage.
He says he fears it will do long-term damage to the lives of gay and straight people.
Advertisement
Shadow Welsh Secretary Owen Smith has been explaining why he and most Labour MPs are voting for same-sex marriage proposals.
Our Political Editor Adrian Masters asked him if he understands why some opponents are strongly opposed to what they see as "redefining marriage."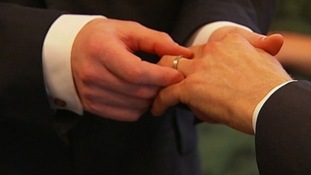 All Welsh Conservative MPs and at least one Welsh Labour MP are thought to be likely to vote against same-sex marriage plans
Read the full story
Welsh Secretary David Jones has given a strong hint that he'll vote against gay marriage plans when they're debated in the Commons tomorrow. He's said this afternoon that he regards it as 'a conscience issue.'
Mr Jones has been named in reports suggesting that as many as four cabinet ministers could vote against the proposals. Conservative MPs have a free vote which means it wouldn't be considered a rebellion although it would be embarrassing for the Prime Minister.
For now the Secretary of State is remaining tight-lipped but you can see for yourself what he said when he was asked about it by our Business Correspondent Carole Green at a jobs summit in Newport.
Conservative MP Simon Hart has confirmed that he'll vote against the government's gay marriage plans when they're debated in the Commons tomorrow. Mr Hart, who represents Carmarthen West and South Pembrokeshire, hast told me:
I've sent a letter today to everyone who has written to me saying I will be voting against.
His decision means he joins a list of up to 180 Conservative MPs who are likely to vote against the plans. David Cameron has allowed a free vote but such a large number of internal opponents will be a blow to his leadership and efforts to modernise the party.
Back to top