'From the Heart' campaign week
ITV is launching a new campaign, From the Heart, to raise awareness of organ donation and the NHS Organ Donor Register.
The MP for Montgomeryshire, Glyn Davies, has just posted a blog about ITV's organ donation campaign, encouraging people to tell their families if they want to be an organ donor.
Today we take a look at life for those on the frontline of surgery. Here's our Health Reporter Rob Osborne.
Advertisement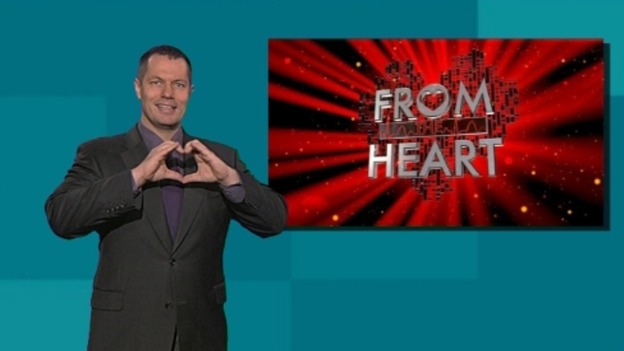 ITV's 'From the Heart' campaign is running all week to raise awareness of organ donation and the NHS Donor Register.
Our team has been showing support by making the 'hand heart' symbol.
At 9pm tonight, there'll be a special ITV programme to celebrate the campaign - featuring Rowan Atkinson, Hugh Laurie, Pixie Lott, Harry Enfield and Paul Whitehouse.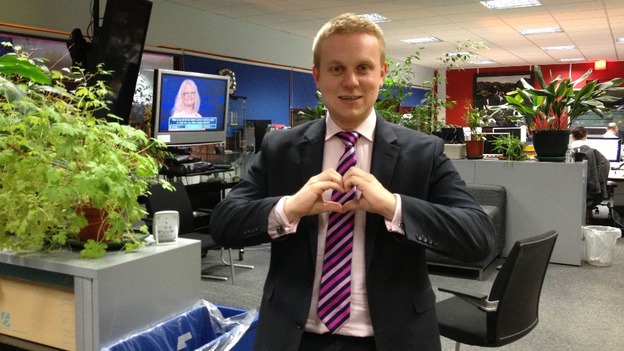 Today sees the culmination of ITV's From The Heart campaign aiming to get more people on the organ transplant register.
Transplant surgeon Mr Argiris Asderakis says it is often a 'misconception' that some people aren't suitable donors due to age or health.
He also said the organs of those who die in intensive care can often still be used.
There are very few absolute contraindications to organ donation. Most patients who die in appropriate circumstances in intensive care can be potential donors - provided they don't have an active tumour or that particular organ hasn't failed. There are some who will have kidney failure at that stage, but they can still donate their liver, for example.
– Mr Argiris Asderakis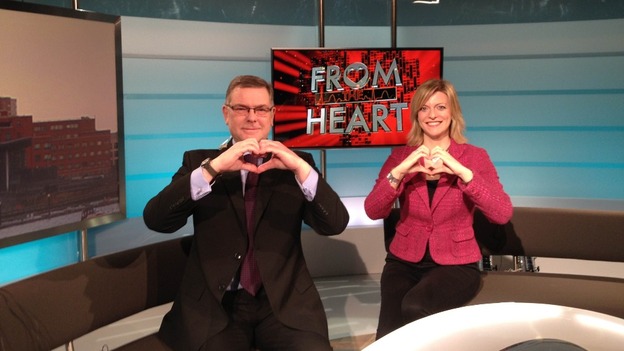 ITV's 'From the Heart' campaign is running all week to raise awareness of organ donation and the NHS Donor Register.
Gareth Duke is a Paralympic swimmer, who has three medals from Athens and Beijing, but had to pull out of the London 2012 games because he is still waiting for a kidney transplant.
As part of ITV's campaign to raise awareness of the need for more people to sign up to the organ donor register, he told our Health Reporter Rob Osborne how having dialysis saps his energy, and limits what he can do.
Advertisement
Tonight's programme explores the subject of organ donation in Wales and speaks to the people whose lives have been transformed as a result.
Watch the full programme online here.
People in north Wales tell ITV News their views on organ donation.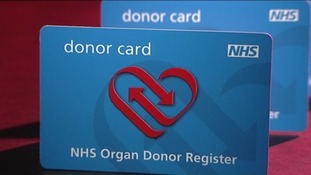 In a special episode, tonight's Wales this Week looks at Organ Donation and speaks to those whose lives have been transformed as a result
Read the full story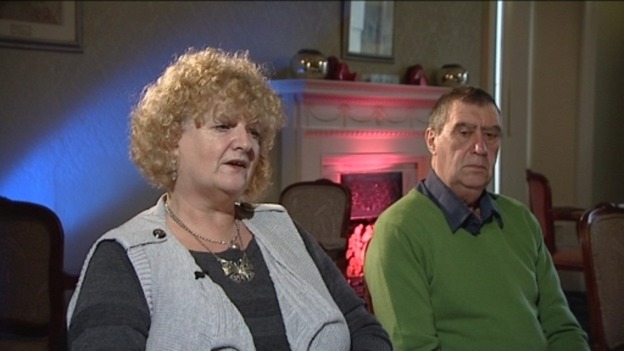 Discussing organ donation is something that many people will inevitably find difficult, especially within a hospital during an emotional time. There are specialist nurses on hand do offer advice regarding organ donation and to offer support to the family members.
Andrea Bradley is a Specialist Nurse in Organ Donation at Morriston Hospital in Swansea.
"I go and speak to the families and give them the information whether or not their relative had registered on the Organ Donor Register or not. I give the families the information they need for them to decide for themselves if it's something they would like to consider...
...I think most people think that anyone can become an organ donor, I dont think people realise that you have to pass away in a certain situation. You have to be on a ventilator or in intensive care or in an emergency department...
...To go back to a family and sit down with them and tell them the organs have been used in a successful transplant is an amazing thing because they realise their loved ones have gone on to help somebody else... They are amazing families
Andrea Bradley, Specialist Nurse in Organ Donation
One couple who have experienced this process are Teresa and Alan Wilkin. Their daughter Claire died after suffering a brain aneurism. They feel proud of the fact that her organs went on to help five other people. Unbeknown to them, Claire had signed the organ donor register.
"We didn't feel under any pressure about letting her organs go because it was her decision. We get a lot of comfort from the donation as a family. We know she's gone but she's given something to somebody and we are proud of her for that"
Teresa Wilkin
You can hear more about Teresa and Alan's story in a special episode of Wales This Week, tonight at 8 on ITV Cymru Wales
Load more updates
Back to top