More tests reveal 'horsemeat'
Several Welsh councils have withdrawn certain beef products from use in schools and care homes after a sample of frozen mince from an approved Newport-based supplier reportedly tested positive for horsemeat.
Welsh Ministers must work with local authorities to launch a thorough programme of testing of food to establish where horsemeat has been sold as beef.

Local authorities already have the power to intervene and prosecute a food business, which tries to pass off a product as organic, when it is not.

The law needs to come down equally hard on anyone who has knowingly deceived the public by selling a product, which is not as described.

Consumers must have confidence that the food they buy is safe and is accurately labelled so they can make an informed choice.
– Antoinette Sandbach AM, Shadow Minister for Rural Affairs
Aled Owen, of Red Kite Law, says Dafydd Raw-Rees - the owner of Farmbox Meats Ltd in Llandre - is losing around £4,000 a day while a Food Standards Agency investigation is ongoing.
He added the business is fully cooperating 'to bring the matter to a early conclusion'.
Advertisement
The solicitor for the west Wales meat processing company which has been accused of mis-selling horse meat as beef says all of its meat products can be accounted for and are from "good, reputable sources."
In a statement Aled Owen said the company denies any wrongdoing.
They have co-operated completely in the enquiry and provided all information when requested.

The audit trail for the horse meat at the plant is clear - from the point of slaughter in Ireland, to the cutting at the company premises, to eventual delivery in Belgium.

The company, whilst co-operating in this investigation, would wish to express its dissatisfaction with the comments made by the FSA which are untrue, according to our instructions, and should not have been made until these matters had been made subject to legal scrutiny.
– Aled Owen, Red Kite Law LLP

Mr Owen adds that the company officers and their families would like to thank friends and neighbours for their support at this difficult time.
Steve Wearne, the Director of the Food Standards Agency in Wales speaks to ITV News's Joanna Simpson about the ongoing investigations into a meat processing plant in Aberystwyth.
The Welsh Government says it's taking a close interest in the UK-wide investigations which led to the raid on Farm box food. UK Government officials are taking the lead because food labelling isn't a devolved matter.
But I understand the Deputy Minister for Agriculture Alun Davies took part in a phone conference earlier today with Whitehall officials and those from other devolved administrations. He's also issued a new statement:
Integrity and trust are fundamental to consumer confidence in the food chain. I am greatly concerned by allegations following investigations into a meat-processing business near Aberystwyth by the FSA and Dyfed Powys Police.
Welsh Beef has been awarded the European Union's Protected Geographical Indication status. This means that the whole of the supply chain meets the highest possible standards. In practice this means that only beef from cattle born and reared in Wales and slaughtered and processed in PGI-approved premises can be labelled as Welsh Beef. It is a short supply chain. Abattoirs and processing facilities have to meet strict criteria before they can become PGI-accredited and all products are fully traceable.
All Welsh Beef branded products are subject to rigorous monitoring to maintain and underpin the highest quality and highest standards.

I believe in the quality of Welsh Beef and I trust the integrity of the PGI supply chain. I want to take this opportunity to make clear that consumers can have confidence in products labelled PGI Welsh Beef.
– Alun Davies AM, Deputy Minister for Agriculture
Number 10 sources say that the Food Standards Agency raid on Farmbox Food was the result of investigations which began in mid-January. It was part of co-ordinated action by officials, agencies and the police across the UK and at a European Union level.
Advertisement
Ceredigion County Council's Commercial Services Team is assisting the Food Standards Agency with its investigation. Within the team are competent and highly experienced Trading Standards Officers who, if requested, can take formal samples of foodstuffs, assist with traceability issues and liaise with analytical laboratories for professional guidance.

The Team will work in partnership with the Agency and will act on available evidence in determining which premises, if any, should be targeted for sampling.
– Ceredigion County Council statement
The Deputy Minister for Agriculture, Alun Davies, has told ITV News that Welsh beef is of the highest possible quality and that the allegations that emerged yesterday involve one meat processor and do not reflect a "wider problem."
The AM representing Ceredigion says the Food Standards Agency raid on Farmbox Foods at Llandre near Aberystwyth has dented confidence in the whole of the meat industry. Elin Jones, who's a former rural affairs minister, says there now need to be spot checks of meat on sale in shops.
It's really disappointing that a business in Ceredigion is under suspicion for illegally labelling horsemeat as beef. This investigation needs to be thorough and immediate. When an event such as this happens, confidence in the whole of the meat industry is dented and the reputation of all farmers and processors are in danger of being tarnished. It's important for consumers to know that food labelled as Welsh lamb and Welsh beef has full traceability and remains the best on the market.
I want Governments and retailers to learn the lessons from this horsemeat scandal. In the future, the FSA should be resourced to undertake spot-check DNA sampling of meat on retailers shelves. The technology now exists to do this, and this scandal came to light when Irish authorities undertook such sampling. If retailers and processors were subject to random DNA checks, then this problem would soon be eradicated.**
– Elin Jones, Plaid Cymru AM for Ceredigion
National
Prime Minister David Cameron has called the horsemeat scandal an "appalling situation", stressing that if criminal activity has taken place "there should be the full intervention of the law".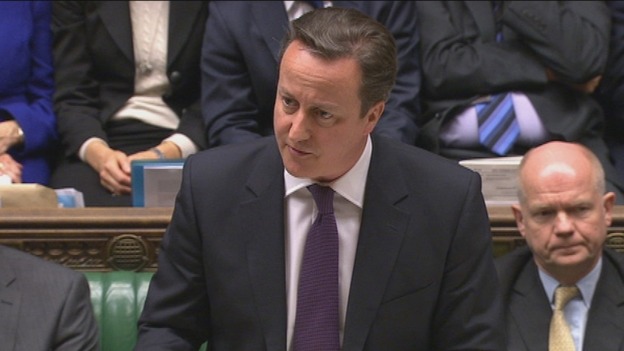 Speaking at Prime Minister's Questions, Mr Cameron said an enhanced testing regime not only found contamination, but discovered that in some instances horsemeat had been passed off as beef.
He called the discovery "completely unacceptable".
Load more updates
Back to top