More powers for Wales?
The First Minister has set out how he sees the powers of the Welsh Government and Assembly being massively increased.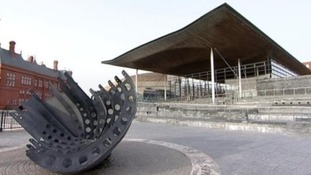 Plaid Cymru calls for a wide range of powers, including policing and criminal justice, to be devolved as soon as possible
Read the full story
Plaid Cymru has made its demands for the transfer of powers from Westminster to Cardiff Bay, a week after the Welsh Government unveiled its ambitions. The party claims that devolving a wide range of powers should happend as soon as possible. Policing and criminal justice head the list.
They were top of Carwyn Jones' more gradual proposals as well. Plaid also wants natural resources and energy policy handed over, when the Welsh Government only asked for control of water and said nuclear power should be excluded from the devolution of energy. Plaid Cymru's other demands include:
Broadcasting
Railways
The Food Standards Agency
Electoral Arrangements
JobCentre Plus
The Crown Estate
A separate civil service for Wales
We believe that having these powers in Wales will make the devolution settlement work better and ensure that the Welsh Government will be more accountable to the people of Wales. Plaid Cymru has long made the argument for the transfer of powers over criminal justice, energy and broadcasting to the Welsh Government. It is in the Welsh national interest for decisions on these to be made in Wales, particularly for a Welsh way of policing and justice, environmental sustainable development and ending the democratic deficit in the Welsh media.
– Plaid Cymru Constitution Spokesperson Ieuan Wyn Jones AM

Plaid Cymru agrees with the Welsh Government that Westminster's role should be limited to a list of specific powers, with everything else automatically devolved. It claims that the proposals it's submitting to the Silk Commission on the constitution are 'comprehensive, reasonable and realistic'.
There must be greater consistency in the devolution settlement. The reserved powers model in both Scotland and Northern Ireland should be adopted in Wales to provide greater clarity for where powers lie, rather than the current opaque system. This will increase efficiency and accountability for the Welsh Government. Now that Wales makes its own laws, there is an obvious need for a Welsh legal jurisdiction to reflect this, and this should be introduced quickly, followed by Welsh policing and criminal justice powers. Scotland and Northern Ireland both have these powers.
– Plaid Cymru Parliamentary leader Elfyn Llwyd MP
Advertisement
The First Minister is calling for a wide range of new powers to be devolved to the Welsh Government.
Control over policing, and speed and drink and drive limits are some of the additional powers.
They've been listed in a Welsh Government submission to Westminster as ministers there decide on the future shape of devolution.
They also want more discussion between the two governments over who has the final say on large scale non-nuclear energy projects and a wide range of other functions. Our political reporter Owain Phillips has been looking at what's on the First Minister's shopping list.
Rachel Banner, leader of True Wales, the group that campaigned against further devolution of powers to Wales says: ''It's pretty clear that Welsh Ministers, one by one, are cutting every tie that binds us to the United Kingdom.''
There's been an unenthusiastic response to Carwyn Jones' demand for more powers for the Assembly from the Liberal Democrats and Plaid Cymru, the two parties that have long advocated that devolution should go further.
The Welsh Liberal Democrats' leader, Kirsty Williams said Labour should have acted on the recommendations of the Richard Commission, set up when her party was in coalition government with Labour. She said Welsh Labour had only found its voice once the party had lost power at Westminster.
It is now time for the Labour party to make their stance clear on the matter. Does the Shadow Welsh Minister, Owen Smith MP, support these proposals? Does Ed Miliband support these proposals? If not, then one must wonder how significant these proposals actually are. As we all know, the Welsh Labour Government has traditionally had very little influence over their Labour colleagues in London. The people of Wales have a right to know what the Labour party's position is on this.
– Welsh Liberal Democrats' Leader Kirsty Williams AM

There has been no response from Leanne Wood and her newly established Plaid Cymru leadership team but a party spokesperson issued a statement accusing the Welsh Government of delay and also questioning if Carwyn Jones had secured the backing of the Labour party for his demands.
While we are pleased with the direction of travel from the Welsh Government, this is very much a slow lane approach that would still leave the major levers of power at Westminster. The question is not just which powers should be transferred to Wales, but when they should be transferred.
It seems that these proposals involve kicking a lot into the long grass. Why, for example, should criminal justice powers be devolved in principle but not practice? This submission to the Silk Commission comes from the Welsh Government and not the Labour Party, so we look forward to reading the official submission from the Labour Party when it is presented.
– Plaid Cymru spokesperson
The First Minister, Carwyn Jones, has called for powers over areas like policing, tax and alcohol licensing to be devolved to Wales.
Carwyn Jones made a statement this morning saying "Decisions that affect Wales should only be taken in Wales."
Advertisement
Carwyn Jones says the Welsh Government wants a major increase in the areas where the Assembly can pass laws introduced without a referendum. He's told the Silk Commission on Devolution that the March 2011 referendum confirmed support for the Assembly having 'extensive legislative authority'.
The First Minister wants powers transferred from London over everything that would not be specifically reserved to the UK Government and Parliament, such as constitutional affairs, defence, foreign affairs, social security and macro-economic policy. Powers that would be devolved include:
Taxes – A range of taxation powers in line with the recommendations of the Silk Commission.
Police -Control of Policing, community safety and crime prevention
Road safety -Powers over speed and drink driving limits.
Licensing of alcohol and late night entertainment..
Vulnerable adults and children - taking children into care, fostering and adoption.
Water – In all parts of Wales, including where Welsh Water is not the supplier.
Ports - Power over the economic development of Welsh ports.
Administrative Justice and the administration of elections.
Large scale energy generation (except nuclear power) and related energy infrastructure.
The youth justice system.
The appointment of the Welsh member of the BBC Trust and all members of the S4C Authority
Powers for dealing with civil emergencies
I am firmly committed to seeking a long term constitutional settlement for Wales within a devolved United Kingdom. We think it is important to achieve a settlement that is both simpler and clearer than the present arrangements, and one which enables decisions affecting Wales to be taken in Wales. Achieving such a settlement could only strengthen the Union and Wales's place within it. I believe key decisions over policing, energy, public transport and community safety should be taken in Wales, for Wales, by those of us directly elected by the people of Wales and accountable to them.
– First Minister Carwyn Jones AM

Carwyn Jones says the powers should be transferred by 2021. In the longer term, he says criminal justice should be devolved, including courts and prisons. He wants a separate Welsh legal jurisdiction and an early start on preparations to end the single England and Wales jurisdiction.
Back to top