Sharp End poll results
An ITV Cymru Wales/YouGov poll of Welsh public opinion for Sharp End, asks how people would vote in Assembly, Westminster and European elections. The first results released indicate how we'd vote in a referendum on EU membership.
A Labour source says the results of the latest Sharp End poll call into question Plaid Cymru's stated aim of boosting its constituency vote in future Assembly elections and particularly leader Leanne Wood's decision to fight a constituency rather than a regional seat in 2016.
The poll suggests that Plaid's support in the constituency vote has dropped by 2% since the 2011 election although its since an increase of 8% in the regional vote. Plaid says 'it's very pleasing to see (the party) leading the votes on the National Assembly regional list.'
But the Labour source tells me that Plaid should be worried:
Leanne's decision to stand in a constituency seat looks like it will come back to haunt her.

Plaid's entire assembly election strategy is based around winning constituency seats. This poll suggests that strategy is destined to fail.
Shadow Welsh Secretary Owen Smith says the results of the latest Sharp End poll represent a vote of confidence in Labour's leadership at Westminster and in Wales.
This poll is disastrous news for both the Tories and the Lib Dems. It shows the plummeting support for the UK coalition parties and a strong vote of confidence in the leadership of Ed Miliband and Carwyn Jones. That Plaid Cymru's support is also down shows that voters value the way the Welsh Labour Government is standing up for Wales in the face of cuts from Westminster.
There is a long way to go until the next elections but what is clear is that people can see for themselves the difference between a Labour Government investing in jobs and growth and protecting public services, and a Tory/Lib Dem Government prioritising a tax cut for millionaires while cutting support for working people.
– Owen Smith MP, Shadow Welsh Secretary
Advertisement
Plaid Cymru has welcomed its improved showing in the regional part of the Assembly vote in the latest Sharp End poll. A spokesperson says:
It is very pleasing to see Plaid Cymru leading the votes on the National Assembly regional list, but we all recognise that there is a very long time to go before the next set of Assembly elections, and we are certainly not complacent.

Plaid Cymru is ambitious for Wales and voters are clearly recognising Leanne Wood's honesty and integrity as a political leader.

Welsh politics is unique and it is important for Wales that there are more Welsh voters' polls like this to show popular opinion in Wales.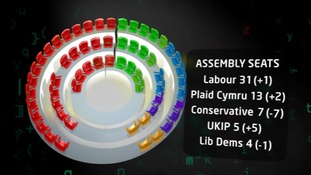 A poll for tonight's Sharp End shows that an Assembly election now could give Labour an overall majority, with Conservative losses to UKIP
Read the full story
Plaid Cymru says the ITV Cymru Wales poll showing a majority in Wales for keeping Britain in the European Union links EU membership with the Welsh national interest. The party argues that it if a UK majority voted to leave, it would still be wrong to override Wales' wish to stay in the EU.
These figures show that many people in Wales recognise that membership of the EU is in the Welsh national interest. They are also evidence of the need for a full, open and honest debate on Wales in the EU. I have published research that proves that the people of Wales benefit from EU membership. Wales needs EU funding to strengthen the economy, create much needed jobs and develop our infrastructure.
There need to be changes in the EU to make it more democratic and representative. We need to look at where decisions are made, and what powers would be used most effectively in the Assembly, working closely with the EU. In the event of a referendum where Wales voted to stay in the EU, the democratic will of the Welsh people must be respected.
– Plaid Cymru MEP Jill Evans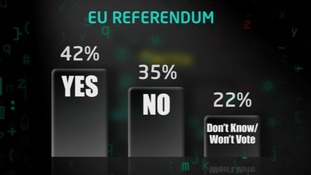 A poll for tonight's Sharp End suggests that Wales would vote in a referendum for Britain to stay in the European Union.
Read the full story
Advertisement
Back to top