St David's Day celebrations
Events are taking place across Wales today to mark St David's Day, including a visit by the Prince of Wales and the Duchess of Cornwall.
Katherine Jenkins and Gareth Thomas have sent their St David's Day greetings on twitter this morning.
Dydd Gwyl Dewi Hapus! Happy St David's Day everyone!
Pawb Dydd Gwyl Dewi Hapus yn! (he said, trusting Google Translate)
Happy St David's Day to all the Welsh Springer Spaniels on Twitter!
Dydd Dewi Sant Hapus. Happy St David's Day to you all #cymru
Advertisement
Welsh ministers are spreading their St. David's day message internationally today. The First Minister is in Barcelona having hosted a special event in Brussels yesterday. Business Minister Edwina Hart is promoting Wales in Los Angeles while heritage minister Huw Lewis is in China.
They say their international effort is to promote Wales as 'a place to invest, visit and trade with.' Carwyn Jones said:
Wales is a unique place. Everyone who lives here, visits here, studies here, or does business here already knows that. We all know the advantages that Wales offers, but it's an important part of my job as First Minister to tell the people who don't know, exactly what they are missing.

We are competing in a crowded international market place. Whether it's promoting trade and investment, attracting tourism or encouraging overseas students to come and study here, our distinctive qualities and the talent we have here are crucial to selling what we have to offer abroad.
We promote Wales because we are committed to do all we can to support our economy and help create jobs here in Wales. We can't wait for the world to come knocking at our door; we have to get out and show them our wares, and tell them what we have to offer.

I am committed to doing this and so are all Welsh Government Ministers. We will be selling Wales overseas at events organised to coincide with St David's Day as part of our drive to open new doors for Wales, promote our brand and show a global audience what we have to offer.
– First Minister, Carwyn Jones AM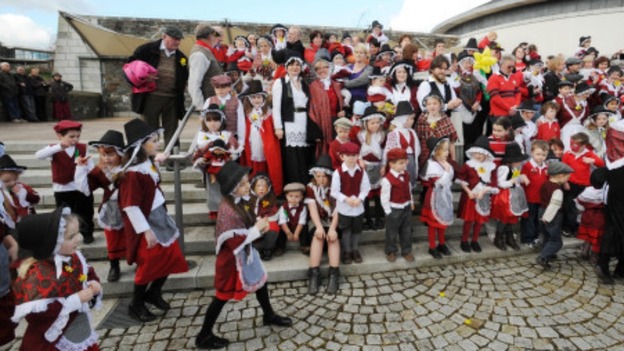 Celebrations will be taking place across Wales today to mark St David's day.
Around 600 schoolchildren are expected to take part in Colwyn Bay's annual St David's Day parade starting at 10am in Queen's Road.
Street dancers, schoolchildren and bands will parade thorough Cardiff's streets starting at City Hall at 12.30pm and in Wrexham, festivities kick off at 1.30pm at Lambpit Street. The Rugby League World Cup trophy will also be in Wrexham for the celebrations.
The Prince of Wales and the Duchess of Cornwall will attend the national St David's Day Service at St John the Baptist Church in Cardiff and then visit the Royal Welsh College of Music and Drama.
David Cameron has paid tribute to the people, language and culture of Wales on St. David's Day. The Welsh flag is also to be raised at Downing Street today. In his St. David's day message, the Prime Minister said:
This St David's day people throughout Wales and across the world will be celebrating all that it means to be Welsh. From one of Europe's oldest living languages, a great literary tradition and incredible music, to world-class sport, mouth-watering cuisine and a thriving business environment - we can all take pride in such a rich culture and heritage.

I'm pleased to be flying the Welsh flag over Downing Street today and to wish everyone Dydd Gwyl Dewi Hapus - a very happy St David's Day.
– David Cameron
Load more updates
Back to top