Small rise in Welsh budget
The Welsh Government will get an extra £104m over the next two years from the Budget, according to the Wales Office. A planned fuel duty rise has been scrapped, and there will be help for people struggling to find mortgage deposits.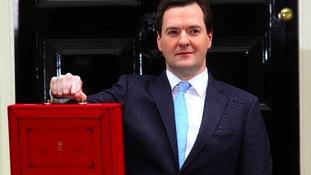 Welsh families, businesses and politicians have been counting the cost of today's Budget, as they look to balance their own books.
Read the full story
The Welsh Local Government Association says the Budget means there are tough times ahead for local communities, with reduced public services and welfare cuts.
The outlook is bleak given that public spending on day to day activity will continue to reduce over the coming years. Reductions to the Welsh Block were already set out in the Chancellor's autumn statement. Local public services in a number of areas including education and early intervention, roads and transport, planning, and housing are proven activities that influence economic growth in a positive way.
Many people will face further reductions in living standards in the coming years. Changes to the welfare system will mean that some of the most vulnerable people in our communities are going to be left high and dry at a time when local public services will be squeezed as never before. This Budget is a missed opportunity but along with colleagues from across Wales, councils will step up to the plate and support growth and services in our local areas.
– WLGA Spokesperson Cllr Aaron Shotton
Advertisement
Jane Hutt, the Welsh Government's Finance Minister, said "we're very constrained and disappointed by this Budget."
"There's no new real money for capital spending - there's cuts to our revenue budgets", she said.
The Shadow Welsh Secretary, Owen Smith, has attacked the Chancellor both for his overall economic strategy and for the specific consequences for Wales of today's Budget.
The Chancellor could have introduced a package of measures to stimulate our economy: cuts to VAT and National Insurance, for example, and increased spending on house building and other infrastructural projects that would increase economic activity and boost tax receipts. And today's Budget, in which the Chancellor said he was going to 'level with' Britain, acknowledges as much by adopting a version of Labour's plan on National Insurance and by increasing the spending on infrastructure too.
But look at the fine print and what do you see: none of these things come in this year and most, like the elusive extra £3 billion on infrastructure, only due to appear in 2015 – when the Tories may well be out on their ear. And the same Osborne hallmarks of 'jam tomorrow' and sleight of hand are apparent in the treatment of the budget for of National Assembly.
David Jones announced that Wales would get an extra £161 million to spend on infrastructure – but we all remember that this is just putting back some of the £500 million cut in capital spending that was made in 2010 budget and even in the terms of this Budget it's not quite as simple as the Welsh Secretary would have us believe, because a further £59m is cut out of the Welsh Government's revenue funding, forcing hard decisions about cuts to services on which we all rely.
– Shadow Welsh Secretary Owen Smith MP
Plaid Cymru Finance Spokesman Jonathan Edwards says the economic figures contained within the budget suggest a bleak future for Wales.
Wales Office minister Baroness Randerson tells Political Editor Adrian Masters that the budget was 'as good as we could possibly have hoped for' for Wales both in terms of the amount of money the Welsh Government gets to spend and in terms of other measures for families.
Advertisement
Labour's Shadow Welsh Secretary Owen Smith says the Chancellor's budget gives to Wales with one hand and takes away with the other.
National
The Resolution Foundation, an independent research and policy organisation, analysed the Chancellor's 2013 Budget:
Personal tax allowances: Small gains for the great majority of tax payers excluding the very highest and lowest earners. However three-quarters of the £1 billion goes to households in the top half.
Fuel duty: The freeze on fuel duty will disproportionately benefit lower and modest income families.
Childcare: Welcome increase in generosity of childcare support through Universal Credit but only a minority of working low-income families with children will benefit.
Housing: Focus on new supply to be welcomed but focus on home ownership is unlikely to benefit those on low and modest incomes.
Wages: OBR forecasts show wages have dipped further than previously realised. For the median worker, the downturn has become even more severe.
The Wales Office has released further details of the changes to the capital and revenue budgets that the Welsh Government will have to spend in 2013/14 and the projected figures for 2014/15, which are subject to further change in next year's Budget.
Capital spending will rise by £161 million.
2013/14: £63 million increase
2014/15: £98 million increase
The figure released earlier, of an extra £104 million over two years, includes revenue spending, which accounts for the vast majority of the Welsh Government's budget. It will be cut by £59 million.
2013/14: £27 million decrease
2014/15: £32 million decrease
The Wales Office points out that this is a 0.2% cut, compared to a 1% cut for most UK government departments. The Welsh Government argues that cuts announced by the Chancellor last autumn also have to be taken into account, leading to a bigger total drop in revenue spending.
2013/14: £32 million decrease
2014/15: £81 million decrease
The Welsh Conservatives have called on the Welsh Government to make effective use of an extra £161 million in capital spending over the next two years.
As a result of these spending decisions the Welsh Government will benefit from an additional 161 million pounds of capital spending power – bringing the total to 858 million over the spending review period. Detailed discussions are now required on how to put this new money to best use.
This is a Budget targeted at growth that helps and supports communities across Wales. From fuel duty to income tax, from childcare to capital spending; this is extremely welcome news that provides a stark contrast to Welsh Labour's tired policies and casino economics.The UK Government's mortgage announcement will help those working hard to get on the property ladder, while its national insurance plans are a welcome difference to Labour's flawed plans to tax jobs.
– Leader of the Opposition Andrew RT Davies AM

Meanwhile Plaid Cymru's Treasury spokesperson, Jonathan Edwards MP, has reacted to the Chancellor's Budget by saying it will bring little benefit to the Welsh economy and is a clear indication that Treasury policies are failing Wales.
It is disappointing that the Chancellor failed to adopt policies advocated by Plaid Cymru such as reversing the tax cut for those earning over £3,000 a week and scrapping the Trident renewal that is set to cost £100 billion. He also failed to make progress on introducing a Financial Transaction (Robin Hood) Tax that would raise £20 billion a year and help curb the speculative behaviour in the financial sector which caused the crash in the first place. The decision to scrap the stamp duty on shares trading is a regressive move as it's the only thing in the UK currently resembling this tax.
– Plaid Cymru Treasury Spokesman Jonathan Edwards MP

Mr Edwards welcomed the news on childcare support though it won't help those on tax or universal credit. He said that left those on the lowest incomes facing the greatest barriers to meaningful work. He also welcomed the scrapping of the rise in fuel costs and the £10,000 income tax threshold.
Load more updates
Back to top