Hospital death rate figures
11 of Wales' 17 district general hospitals have mortality rates that are higher than expected, according to data published today. MP Ann Clwyd revealed she has been invited to meet Wales' new Health Minister over hospitals' handling of complaints.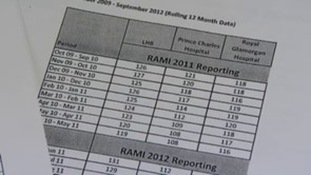 11 out of 17 Welsh general hospitals have higher death rates than should be expected, according to data published today.
Read the full story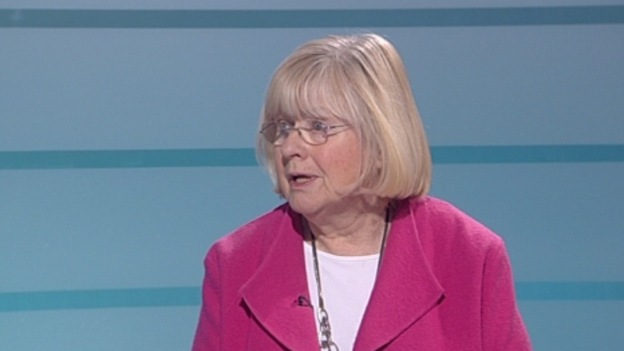 The Welsh MP who is leading a review of how the NHS in England handles complaints has told ITV News Cymru Wales that she has been invited to meet the new Health Minister in Wales, Mark Drakeford.
Cynon Valley MP Ann Clwyd said he wrote to her as soon as he was appointed, last week, and has promised to discuss with her more than 2,000 emails and letters she has had regarding complaints.
Her review follows the scandal over neglect and abuse of patients at the Mid Staffordshire NHS Trust.
She has previously criticised the care received by her dying husband at the University Hospital of Wales.
Read More: Ann Clwyd MP: 'My husband died like a battery hen'
Advertisement
Cardiff and Vale University Health Board - which runs the hospital with the most unexpectedly high death rate, the University Hospital of Wales in Cardiff - has defended its practices.
We have confidence in our staff and the care and treatment they provide andwe are reassured by what we are being told by other accepted systems and methodsof reviewing quality and safety. However, we are in no way complacent about this and work is already underway tofurther scrutinise this data and any link to the coding problems that we are currentlytackling.

The UHB has an ongoing commitment to do all it can to reduce harm and risk for patients.
– Dr Graham Shortland, Medical Director for Cardiff and Vale University Health Board
The Risk Adjusted Mortality Index (RAMI) is calculated as the ratio of the actual number of deaths in a hospital, compared to the expected number of deaths.
The baseline is set at 100 - so anything above that means a higher than expected death rate, and anything below it means a lower than expected death rate.
Here are the figures for Wales' district general hospitals, for October 2011 to September 2012:
University Hospital of Wales, Cardiff - 128
Llandough, Penarth - 86
Prince Charles, Merthyr Tydfil - 102
Royal Glamorgan, Llantrisant - 119
Royal Gwent, Newport - 117
Nevil Hall, Abergavenny - 86
Morriston, Swansea - 102
Singleton, Swansea - 102
Neath Port Talbot, Port Talbot - 102
Princess of Wales, Bridgend - 102
Bronglais, Aberystwyth - 95
Glangwili, Carmarthen - 95
Prince Philip, Llanelli - 89
Withybush, Haverfordwest - 97
Ysbyty Gwynedd, Bangor - 108
Ysbyty Glan Clwyd, Bodelwyddan - 103
Wrexham Maelor, Wrexham - 117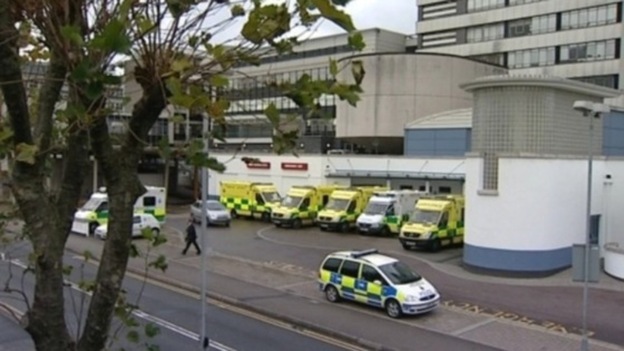 Adjusted mortality rates are higher than expected at 11 of 17 district general hospitals in Wales, according to figures published today by local health boards.
The data is called the Risk Adjusted Mortality Index, and compares the number of deaths at a hospital with the number expected - which is influenced by factors like average age and deprivation.
Wales' local health boards have published mortality figures for their hospitals today.
The Welsh Government is committed to transparency on performance and to improving access to NHS information. As from today, anyone in Wales can view a measure of hospital mortality.

The data published today add to a range of information available to help us assess the quality of our care.

However, while it provides useful information, it should not be viewed in isolation as a measure of the quality of hospital care. We must use this information to drive up the quality of our care.
– Mark Drakeford, Health Minister
Advertisement
The latest hospital death rate figures will be released by the Welsh Government this morning.
The data, known as the Risk Adjusted Mortality Index (RAMI) is being released as part of a drive to improve transparency in the NHS.
Back to top