Welsh Labour Conference
The Welsh Labour Party Conference has been held in Llandudno.
Political Editor Adrian Masters caught up with Ed Miliband after his speech at the Welsh Labour Party Conference in Llandudno.
Ed Miliband and Carwyn Jones take to the stage for a Q & A at Welsh Labour conference in Llandudno. http://t.co/EsiaKVkilK
Ed Miliband told Welsh Labour conference that having Lab in power in Wales helps his fight back at Westminster level.
Ed Miliband backs all-women short lists even though 'they've been controversial in Wales' in the past.
Advertisement
Labour leader Ed Miliband is to promise that his Shadow Cabinet will come to Wales within the next year.
He's expected to tell Welsh Labour's conference in Llandudno that he wants his team to look at 'practical examples' of actions by Carwyn Jones' Welsh Government to 'inform' the party's manifesto for 2015.
He'll be sharing a stage with First Minister Carwyn Jones to take questions from delegates and is expected to build on comments he made in Birmingham yesterday but add that Carwyn Jones and the Welsh Labour Government are 'acting to provide shelter from the storm.'
Adrian Masters speaks to Carwyn Jones after his conference speech.
Our political editor Adrian Masters caught up with Stephen Doughty MP, Councillor Siobhan Corria and Joyce Watson AM at the conference in Llandudno.
Shadow Welsh Secretary Owen Smith has told the Welsh Labour conference that devolution "will shift and evolve, ebb and flow" and that unless Labour is vigilant, it can risk division and undermine the redistribution of tax revenues to Wales from the wealthier areas of England.
In his speech to delegates in Llandudno, Mr Smith was especially critical of Plaid Cymru's call for the Welsh Government to take responsibility for social security and the Conservatives' demand that any devolved power over income tax is used to cut the rate paid by high earners.
Their proposal to use taxation to play off Wales against other parts of the UK and the corresponding plans from Plaid to segregate social security are - just like the referendum in Scotland - a reminder of the risk that unless we are vigilant, devolution can risk division and dilution of our collective means and our redistributive principles – and of the fiscal union which allows us to exercise them.
We in Welsh Labour will not let that happen. We, who campaigned for Devolution for a hundred years - and delivered it too. We, who truly understand the value of devolution. Enhancing our democracy, increasing political accountability and improving decision making for vital public services. We_ will use devolution to deliver for Wales – not to deliver us from our brothers and sisters in Liverpool, or Lanarkshire, Lisburn or London.
Wherever devolution takes in the years to come – and it will shift and evolve, ebb and flow. We will remain both Welsh Labour and One Nation Labour – a Welsh party and a British party – and proud of being both.
– Shadow Welsh Secretary Owen Smith MP
Advertisement
Carwyn Jones' personal recollections are about 'what made him Labour', not, he says, 'a sentimental journey.'
Carwyn Jones: 'devolution can't sit still… the present settlement is unclear & needs to be changed.'
Carwyn Jones acknowledging 'areas of debate' in Labour about devolving policing & energy
The First Minister has made a strong and highly personal defence of controversial plans to change the health service in Wales.
Speaking at Welsh Labour's conference in Llandudno, Carwyn Jones, said his government would not change course.
The easiest option for us would be to play it safe - put risk on the back burner and plough on regardless for another few years.

Colleagues - we can't do that.

We have to have a health service that's safe and sustainable in the future.

Any change will be done sensibly and with the fullest consideration taking into account the views of the medical professions themselves.

Conference – let me be clear.

There is no bigger threat to the National Health Service in Wales than saying - "there's no need for change.
– First Minister Carwyn Jones

He said the NHS was 'ingrained' in his and his party's DNA and he set out very personal reasons for that support, telling delegates about the death of one of his grandmothers at a young age and referring to even more personal experience of the health service.
When I was born, I was very unwell and spent weeks in an incubator - what would now be called a special care baby unit.

Hard to believe I know - when you look at me now.

But for me, the NHS was there.

When my wife Lisa fought and overcame leukaemia, the NHS was there for her – for us.

We didn't have to worry about cost or access to future treatment – the NHS was there.
– Carwyn Jones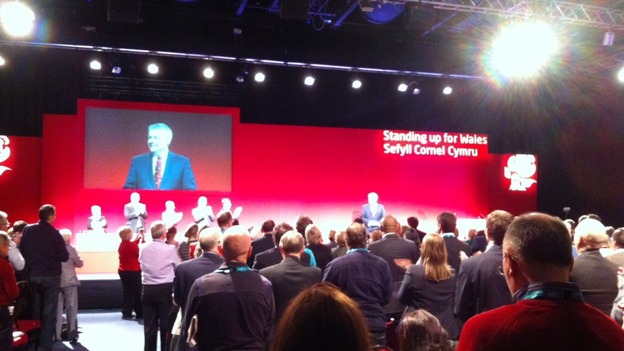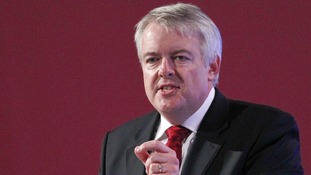 Sources close to the First Minister say his speech to Welsh Labour's conference in Llandudno will be highly personal.
Read the full story
Load more updates
Back to top