More time to bury dead livestock
The relaxation of laws that prevent farmers burying their livestock on their land is to be extended for a further week. Farmers called for the change to help them deal with the deaths of hundreds of animals following heavy snow.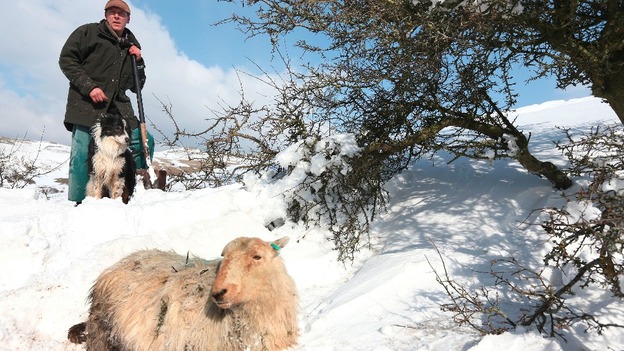 The Natural Resources Minister says he is "considering how best to provide long term support to our farmers in Wales."
The comments by Alun Davies come as he announces plans to relax dead animal burial rules.
He said that he is steadfast in his "support to develop an industry that is not reliant on subsidy."
"Providing additional further direct financial support into individual farm businesses is not the way to improve our long term resilience."
"I have consistently argued against the policy of the UK Government to reducing direct CAP payments to farmers precisely because I recognise that farm business require public support to become more efficient and profitable."
"I remain happy to consider any further practical support that the Welsh Government can provide both to the industry and to individual business at this difficult time."
The Chief Veterinary Officer for Wales has told ITV News that farmers will be able to bury their dead animals in 'certain areas' of Wales where no other option is available.
Dr Christianne Glossop says that farmers will have to contact a 'fallen stock collector' before they can be aprroved to dispose of their own dead animals.
The law relaxations will come into force from midnight.
Advertisement
ITV News has learnt that laws preventing the burial of dead animals on farms are to be 'relaxed' for the next seven days.
Farmers have been calling for the change to help them deal with the deaths of hundreds of lambs and ponies following heavy snow in north and mid Wales.
A formal statement from the Welsh Government is expected shortly.
A farmer has appealed to the Welsh Government to relax rules so that they can bury their dead livestock. Gareth Wyn Jones says around 300 lambs have been lost in his valley near Llanfairfechan alone.
He has told ITV Cymru Wales' Rob Shelley that it is a 'desperate situation.'
Natural Resources Minister Alun Davies is expected to make an announcement later this afternoon.
A farmer in Conwy, north Wales has told ITV News that they can finally 'see light at the end of the tunnel' after the death of hundreds of farm animals in heavy snow.
He says some farmers have lost half of their sheep.
Gareth Wyn Jones, who farms near Llanfairfechan, who has lost many lambs himself says farmers will be "physically, mentally and financial worse off" but that they now need to move on.
He has called on the Welsh Government to relax laws so that they can bury their dead lambs on their farms.
Natural Resources Minister Alun Davies is expected to make an announcement later this afternoon.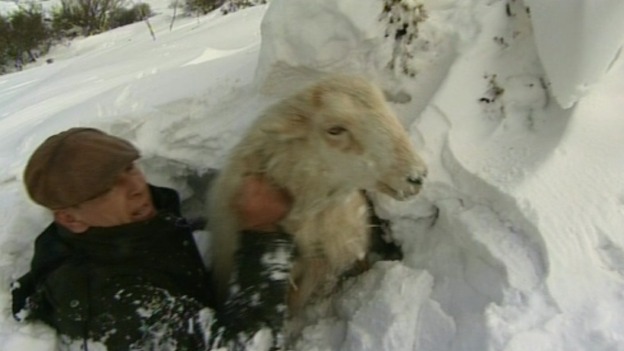 Welsh farmers badly affected by the recent snow are hoping to find out today if they will be given emergency help.
The Farmers' Union of Wales has called for EU rules which make burying animals illegal to be suspended, after many have died.
It has also asked for a "winter feed hardship fund".
The Welsh Government has said it is "looking urgently" at how it can "alleviate the burden on farmers", and will say more about what it plans to do early this week.
Watch: Ian Lang's report on a Conwy farmer rescuing his sheep from snow drifts
Advertisement
Welsh farmers have been reacting to yesterday's announcement from the Welsh Government that they will try and alleviate the pressures many face because of the recent cold weather.
As Rob Osborne reports, some are calling this past month 'a disaster' for the Welsh sheep industry.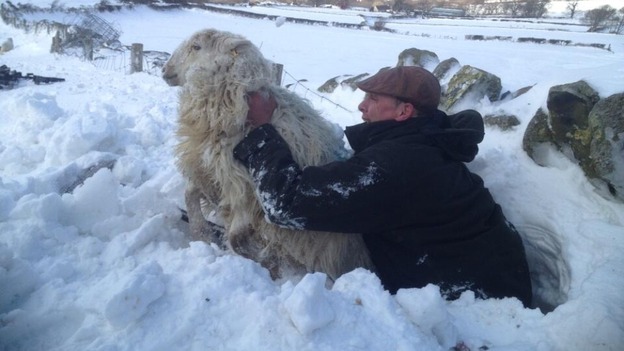 Earlier this week, The Farmers' Union of Wales urged the Welsh Government to create an emergency fund to help farmers with the cost of disposing of livestock who died in the recent snow.
"With the lambing season getting into full swing and fodder and grass shortages already hitting us hard, the freak snowstorms and bitterly cold weather could not have come at a worse time" said FUW president Emyr Jones.
I'm very aware of the extreme difficulties farmers in Wales are experiencing as a result of the extreme weather we have witnessed over the last week.

Sheep farmers are facing their busiest time of the year with the lambing season, which is not yet over in some parts of Wales. The extreme weather has put an added strain on them.
One of the most pressing issues farmers have told me they are now facing is how to deal with fallen stock.

I asked my Chief Veterinary Officer, Professor Christianne Glossop to look urgently at what the Welsh Government can do to alleviate the burden on farmers. I will say more about our intentions early next week.
– Alun Davies, Natural Resources and Food Minister
Load more updates
Back to top