£500,000 snow help for farmers
The Welsh Government says it is giving £500,000 to charities to help farmers hit by the recent snow, which caused heavy livestock losses. Welsh farmers' leaders had written to the Natural Resources Minister demanding financial help.
The Welsh Conservatives have welcomed what they say is a 'very late u-turn' on financial aid from the Welsh Government on financial aid for farmers badly hit by last month's snow. The Natural Resources Minister Alun Davies has announced that £500,000 will be channelled through farming charities.
Additional financial assistance is extremely welcome – but very little and very late. Farmers currently battling for their livelihoods may gratefully receive this assistance – but will rightly question why it is has taken this long for the minister to change his mind. For many, much of Easter was spent digging frozen carcasses from the snow –with absolutely no support.
– Shadow Minister for Rural Affairs Antoinette Sandbach AM

The announcement came after the Assembly's Presiding Officer ruled that the minister should answer an emergency question on the issue from the Mongomeryshire AM, Russell George.
To call this a belated turnaround would be extremely generous. Over the last few weeks I have spoken to countless farmers desperately struggling with fallen stock, infrastructure damage, and financial uncertainty. Today's additional support will be welcomed –but pales into insignificance when compared to support offered in other parts of the UK."
– Shadow Minister for the Environment Russell George AM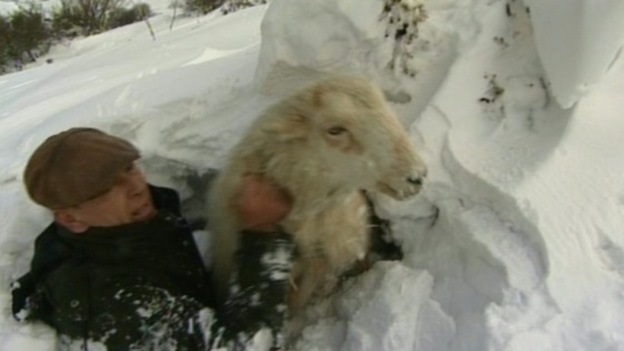 Wales' Natural Resources Minister has also said he is extending the temporary situation where farmers are allowed to bury dead livestock on their land in certain parts of Wales for another week.
They will now be able to do so until midnight on Tuesday 23 April.
Rules were originally relaxed for a week, from 2 April, and this is the second time it has been extended.
He has made changes to the areas - those most badly affected by heavy snow - covered by the relaxation of normal laws.
Find out which areas are covered by the extension of relaxed animal burial rules
Watch: Ian Lang's report on a Conwy farmer rescuing his sheep from snow drifts
Advertisement
The Welsh Government is giving £500,000 to three farming charities to help farmers badly hit by the recent snow, which caused a heavy loss of livestock. The Natural Resources Minister, Alun Davies, said the aid will be targeted at those areas which have suffered the worst of the severe weather.
I will be offering £100,000 to the Farm Community Network and £150,000 to Royal Agricultural Benevolent Institution to assist them with their pastoral and advice-related work, and direct support to the most hard-pressed families. Given the general shortage and increased costs of animal feed ... as a consequence of the poor weather, and in order to help address animal welfare and financial difficulties, I will also making £250,000 available to the Addington Trust to help them provide short-term support to those families in Wales who are least able to meet these costs.
– Natural Resources Minister Alun Davies AM

Mr Davies has been under heavy pressure from farmers' leaders to offer financial help. Last week, he ruled out what he called 'short-term subsidies' and pointed out that other businesses had also been hit by the bad weather.
This package has been developed to provide a proportionate response to the developing situation, targeted at those who most need the Government's and the charitable sector's assistance. I have made clear that further subsidies arenot the way forward for the industry either in the short-term or the long-term.This package therefore seeks to address the human and business impact of the severe weather. For the long-term resilience of the industry it needs to move away from a dependence on public support and to become more market-facing and more market-orientated.
– Natural Resources Minister Alun Davies AM
I will be making a further statement early in the week on continuing support for Welsh farmers affected by the recent severe weather.
Montgomeryshire MP Glyn Davies says he will pursue a debate in parliament over the impact of recent snow on upland sheep farmers.
Writing on his blog, Mr Davies said he will ask the Leader of the House to programme an urgent debate to make sure MPs understand the issues involved.
I know what its like to look after sheep in rough weather. And it doesn't come much rougher than we've seen over the last few weeks.
– Glyn Davies MP

Although agriculture is devolved, Mr Davies says that some hill farmers in Montgomeryshire feel let down by the attitude of the Welsh Government.
It might not make much practical difference but I sense its important to show that MPs understand the scale of the disaster in the hills. Unfortunately there is no PMQs this week. I'm sure Mr Speaker would have allowed me to raise the issue. It will have to be week after next. And I will ask the Leader of the House on Thurs morn to programme an urgent debate. All I will want to do is make sure MPs understand what's happened. I could be the only MP who has experience of digging sheep out of ten foot snow drifts.
– Glyn Davies MP

Mr Davies says some of the scenes on the news over the past few weeks have been "heartbreaking" and describes the ongoing issues as "a hell of tragedy."
Natural Resources Minister Alun Davies has replied to farmers leaders who criticised him in an open letter. They said he was not offering the same financial help as in other parts of the UK to Welsh farmers hit by last month's snow.
He has told them that 'short term subsidies' are not the answer and that there are issues of fairness and affordability.
I will consider bringing forward a proportion of ... Farm Payments, particularly for those who have been hardest hit to date by the weather ... I am willing to keep other possible measures under review, while the evidence of the precise nature and extent of the problems you describe becomes clearer ... But you – as the industry's leaders – must also understand that many other parts of the economy within Wales (and indeed other parts of agriculture) have suffered from the effects of the weather over the last 12 months, and more generally in the global downturn of recent years.
There is a real matter of fairness and affordability here. It is also hard to see how repeated demands for short-term subsidies support the process of change necessary for farming businesses to meet the increasing challenges of the global marketplace. We need solutions for Welsh agriculture that are sustainable - in every sense.
– Natural Resources Minister Alun Davies AM

Mr Davies said he fully appreciated the impact of the snow on both animal and human welfare, and had every sympathy with those who have suffered losses. He will meet the the main banks to discuss what help they can provide. He also wants a further meeting with the farmers' leaders themselves.
In short, I am standing shoulder to shoulder with the wider farming community in helping move Welsh agriculture through the current difficulties.
– Natural Resources Minister Alun Davies AM
Advertisement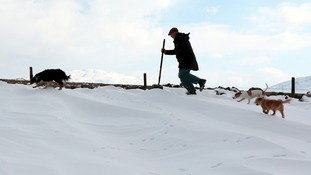 Farming groups have signed an open letter to the Natural Resources Minister calling for 'adequate compensation' following last month's snow
Read the full story
Back to top