Welsh Lib Dem conference
The Welsh Liberal Democrats have held their spring conference in Cardiff.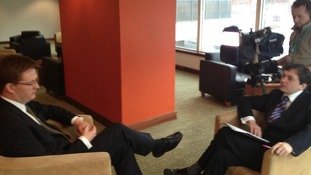 The Welsh Government has said it was 'good to hear' a UK minister back proposals that include devolving 'significant' income tax powers.
Read the full story
As the Welsh Liberal Democrats' conference draws to a close, a senior Treasury minister says he wants the Welsh Government to have 'significant' income tax-raising powers.
Danny Alexander told the party that Carwyn Jones and his ministers need more responsibility for raising the money that they spend.
Owain Phillips reports from the final day of the conference in Cardiff.
Advertisement
Welsh Liberal Democrat leader Kirsty Williams has closed her party's conference in Cardiff with a speech aimed at restoring activists' belief that they can win again after disastrous local council election results last year. She admitted that her own confidence had taken a knock.
So what do we do? Well, we carry on and we keep fighting because now more than ever our communities need us.
– Welsh Liberal Democrat Leader Kirsty Williams AM

Kirsty Williams said the Eastleigh by-election proved that the Lib Dems are winning back public support. In Wales, she said they must never tire of telling people that the party is delivering higher state pensions and reduced taxes for the low paid as part of the Westminster coalition.

In contrast, the Welsh Lib Dem leader claimed that the First Minister's 'absence of ambition is frightening' and that his government was both incompetent and lacking in ideas.
A weak economy, underfunded schools and an NHS that costs more but delivers less, that's Labour's legacy to Wales.
On the final day of the Welsh Liberal Democrats conference in Cardiff, Aled Roberts AM says people are starting to understand what the Liberal Democrats have done in government.
The Chief Secretary to the Treasury, Danny Alexander, has said he wants 'significant income tax powers' devolved to the Welsh government. It did not ask for income tax powers but the Silk Commission on devolution supported the idea, if approved in a referendum. AMs have backed Silk's proposals.
We need a new model of devolution for Wales. A model in which additional responsibility for raising revenues strengthens accountability too. A model in which significant income tax powers unlock commensurate borrowing powers for Wales too.
– Chief Secretary to the Treasury Danny Alexander MP

The Chief Secretary also told the Welsh Liberal Democrat conference that safeguards to stop Wales' share of public spending being cut will be put in place this year. Until now when public spending goes up, Wales gets a slightly smaller share of the increase, a process known as 'convergence'.

But Mr Alexander said that there was unlikely to be any immediate benefit, at a time when public spending is falling. But talks between the Welsh and United Kingdom governments would get underway.
We said that ... we would work to agree changes that both governments can accept are fair and affordable. With budgets going down, it is unlikely that convergence will be forecast this time. But by putting in place a robust process now, we are showing that we meant what we said last year.
The Welsh Liberal Democrat Conference will conclude with their leader, Kirsty Williams, telling them that the party is on its way back from an extended period of unpopularity after joining the Westminster coalition government. She will say that it's time to put their troubles behind them.
We now need to look forward not back. And tell people how proud we are that we blocked the Tories' plans to cut inheritance tax and ensure that the richest in society will pay five times more of their wealth in tax.
– Welsh Liberal Democrat leader Kirsty Williams AM

Kirsty Williams will also claim that Labour is 'an empty tin that makes most noise', embodied by the First Minister, Carwyn Jones, 'cashing in on anger' at the coalition's policies but lacking policy and ambition of his own. Though she will admit to having had her own crisis of confidence.
When we've been out of the game for over 80 years, we need to cut ourselves a bit of slack. Yes the criticisms of our opponents have been relentless, strong and unyielding. It knocked our confidence. It knocked my confidence.
The Welsh Liberal Democrat leader will say that holding on in the Eastleigh by-election and 'holding our own' in Cardiff South and Penarth demonstrates that her party can make a comeback comparable with the Welsh Rugby team becoming Six Nations Champions despite losing their opening match.
Advertisement
Nick Clegg told delegates in Cardiff that he remains deeply committed to devolving more and more power to Wales. Our Political Editor Adrian Masters asked him why the UK Government hadn't moved more quickly to transfer control of 'minor taxes' recently recommended by the Silk Commission.
There's no doubt the Liberal Democrats have paid a heavy price in Wales for their party's decision to join forces with the Conservatives at Westminster. But with just two years before the next UK election, have they turned the corner or could things get worse for them?
Our Political Editor Adrian Masters brought together fFormer leader Lord Michael German, Assembly Member Eluned Parrott and Deputy Leader of Monmouthshire council, Phillip Hobson to try to answer that question.
In his speech to the Welsh Liberal Democrats, the Deputy Prime Minister Nick Clegg has said that in the week of Margaret Thatcher's funeral, the Lib Dems need to face up to the need to get more women into politics.
Margaret Thatcher was the first [woman] to reach the very top. Our party still has a way to go on this ... more female councillors, more female Assembly Members, more female MPs, more female MEPs. But today I want to pay a special tribute to the Welsh Liberal Democrats for leading the way.
– Liberal Democrat Leader Nick Clegg MP

The Welsh party is lead by a woman, Kirsty Williams, who is one of two female AMs in a five strong group. One of its three MPs is also female. Mr Clegg said they needed to build on that.
This party is too male and too pale and that needs to change. We need more Liberal Democrat role models for black and Asian boys and girls; for disabled boys and girls; four young gay men and women too.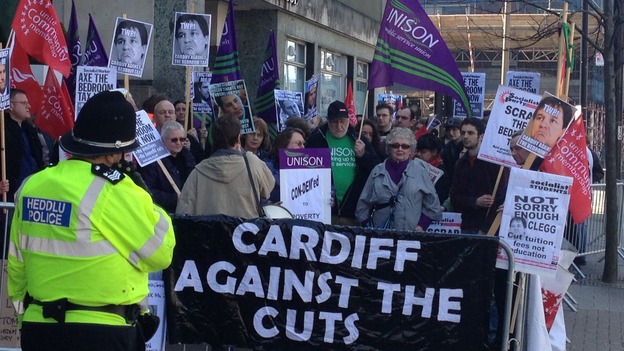 Protesters campaigning against the so-called 'bedroom tax' and other cuts in government spending held a small demonstration outside the Cardiff hotel where the Welsh Liberal Democrats are holding their conference.
They claimed that the Lib Dem leader, Nick Clegg, had 'gall' to come to Cardiff and described him as 'the millionaire deputy prime minister who lives in a million pound home while telling us we need to downsize our homes'.
In the Conference hall, Mr Clegg told delegates that governments had to live within their means. But he denied that the coalition is 'cruel and unbending', saying ministers had made a pragmatic choice to slow down the deficit and debt reduction timetable.
Load more updates
Back to top