Children injured in Rhoose crash
Five children and four adults are being treated for injuries after a car overturned near a primary school in Rhoose, Vale of Glamorgan.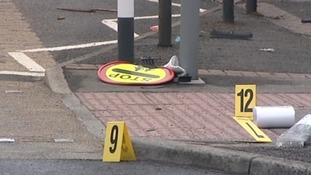 Children and staff affected by a crash in Rhoose which injured 9 people are being offered specialist counselling.
Read the full story
I'm full of admiration for how the school continued and the teachers carried on. They gave their playtime to the pupils; they distracted them; they gave an element of normality. And the village needs to get back to that normality now.
– Alun Cairns MP
Advertisement
Several adults and children are still being cared for in two different hospitals following yesterday's collision in Rhoose.
Five are being treated at the University Hospital of Wales in Cardiff, including one adult - believed to be school lollipop lady Karin Williams.
We are still caring for one adult and four children within the University Hospital of Wales.

One adult remains in a stable condition.
– Cardiff and Vale University Health Board statement

Meanwhile one female patient remains at the Princess of Wales hospital in Bridgend, where she is said to be in a 'comfortable and satisfactory condition'.

Abertawe Bro Morgannwg University Health Board confirmed one adult and one child were discharged from the Princess of Wales hospital yesterday.
The acting headteacher of Rhws Primary School has praised the community in the aftermath of yesterday's collision, which left five children and four adults injured.
As you can imagine, this situation has been extremely traumatic for all concerned.

All members of staff showed exceptional strength of character as they dealt with the rapidly changing situation, both at the scene of the accident and inside the school.

We are very proud of the way in which the whole school community pulled together under difficult circumstances.
– Acting headteacher Jan Morgan

Meanwhile, headteacher Louise Lynn has sent her best wishes to the school's lollipop lady Karin Williams, who was badly injured in the incident.
Our thoughts and prayers are with those who have been injured, including our lollipop lady Karin Williams, who has a fantastic relationship with the children and is a treasured member of our school community.

We are so grateful for all the support we have received from the Vale council, who sent educational psychologists to the school and provided an extra school crossing patrol officer to help us to maintain our routine as much as possible at a very difficult time.
– Headteacher Louise Lynn
A woman admitted to the Princess of Wales hospital following yesterday's crash in Rhoose is in a 'comfortable and satisfactory condition', according to the local health board.
In total, five children and four adults were injured when a black Audi overturned outside Rhws Primary School yesterday morning.
One schoolgirl remains in intensive care.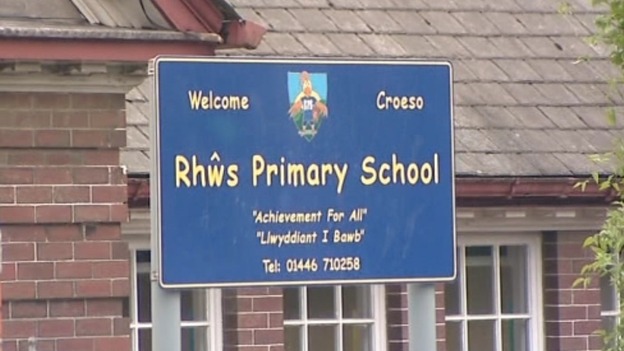 Children are returning to school this morning after yesterday's crash outside Rhws Primary School in Rhoose.
Four adults and five children, including a lollipop lady, were injured when a car overturned outside the school at drop-off time yesterday morning.
A nine-year-old girl is in a serious condition in the paediatric intensive care unit at the University Hospital of Wales in Cardiff.
Police say they believe the incident was not a deliberate act, but are continuing to investigate.
The driver of the car, a 61-year-old man, was injured and is helping the police with their enquiries.
Officers are appealing for witnesses to contact the Serious Collision Investigation Unit by calling 101.
Advertisement
A nine-year-old girl remains in intensive care after a collision outside Rhws Primary School this morning, which left nine people injured. Rob Osborne reports.
Councillor Jeff James is a governor at Rhws Primary School. He told ITV News this morning's incident was a 'shock', but said school leaders did as much as possible to reassure children and staff in the aftermath.
Dr George Findlay from University Hospital of Wales has given ITV News an update on the condition of those still being treated, including a nine-year old girl still in intensive care.
She's seriously ill in our intensive care unit, currently receiving treatment to try and reduce her injuries - but really it is a matter of time and taking things day-by-day.

This was a serious road traffic crash and the injuries are the kind of things you would expect - bone injuries and head injuries.
– Dr George Findlay, University Hospital of Wales
At this very early stage there is an investigation ongoing, which will look at all aspects of what occurred before the incident and immediately at the time of the incident.

There is a team of very experienced and expert officers in our Serious Collision Investigation Unit, who have surveyed the scene and will systematically interview all witnesses to gather that information.

At this stage it's too early to say exactly what caused the distressing circumstances that led to this collision today.

Again, I'd appeal for any witnesses to contact South Wales Police on 101.
– Chief Superintendent Joe Ruddy, South Wales Police

Police have stressed that the incident is not being treated as a deliberate act at this stage.
Load more updates
Back to top