Thunderstorms predicted
Met Office warns of thundery conditions for Tuesday and Wednesday and flood warnings are issued.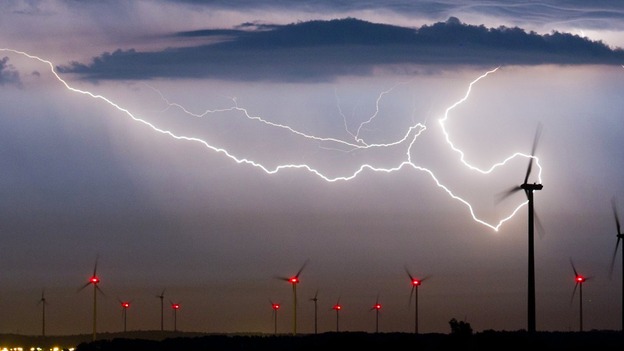 Flood alerts are being made as heavy rain and thunderstorms are forecast for the whole of Wales.
The Met Office is forecasting heavy showers, which could be intense in places, to hit north Wales this evening and affect the whole of Wales Tuesday and into Wednesday.
Natural Resources Wales says due to the recent warm weather the ground is particularly hard meaning water will run off more quickly into drainage systems. There is a risk that this cause roads to flood and drains, ditches and small streams to overflow.
People travelling home from work, on their holidays or events like the Royal Welsh Show, are advised to take extra care, as driving conditions could be difficult.
Those camping or caravanning should also keep an eye on the weather conditions and listen to advice from site owners.
For the latest on flood warnings click here for the Natural Resources Wales alerts[
](http://www.itv.com/news/wales/story/2012-12-22/weather-travel/)And click her for ITV Cymru Wales' weather updates
Yellow warnings issued across Wales for heavy thundery rain that could lead to local flooding on Tuesday and Wednesday...
Advertisement
#SWControl SWFRS attended 59 incidents since 6pm last night, of these incidents 25 were deliberate fires ranging from grass to property CA
National
Fire crews in Mid and West Wales have been tackling blazes that include grass fires and a BBQ fire:
#mawwcontrol Montgomery and Welshpool are in attendance at hay bales alight in the Montgomery area #hay
#mawwcontrol Swansea West have extinguished a BBQ fire at West Cross, ensure all BBQ are extinguished following use #BBQ
Shoppers across Wales are facing an uphill battle to keep cool - as shops sell out of everything from electric fans to children's paddling pools -- and that on the first day of the school holidays.
Some consumers have reported trying half a dozen shops from major chains to independent retailers -- without success. Hannah Thomas has been investigating the sunshine sellout.
Experts believe that up to a hundred sick and elderly people across Wales may have died - in part - because of the hot weather.
The warning comes as emergency services report a big increase in demand for their services. And voluntary teams are doing their best to support some of the most vulnerable people in our communities. Megan Boot reports.
Advertisement
Most of Wales may be enjoying the sunshine, but in Blaenau Gwent winter preparations are already underway.
Blaenau Gwent Council has ordered 2,200 tonnes of road salt and grit to be delivered over the next few days.
The council says that despite the hot weather, their motto is "be prepared" and eight lorries a day are delivering salt to depots.
How are you coping with the hot weather? Have you gone to stock up on fans and found shops sold out?
We're looking for your views on the hot weather. Get in touch via:
Email: wales@itv.com
Twitter: @ITVWales
Facebook: ITV Wales
It's not just humans who are affected by the hot weather. The RSPCA is warning pet owners that their animals may need sun protection too. Rob Shelley reports.
With the hot weather set to continue, here are some top tips on keeping cool.
Read the full story
Load more updates
Back to top