Plaid hold Anglesey seat
Plaid Cymru has retained its Welsh Assembly seat in Ynys Mon, denying Labour the chance of a Senedd majority. Former BBC presenter Rhun ap Iorwerth polled almost three times more votes than his nearest rival, Labour's Tal Michael.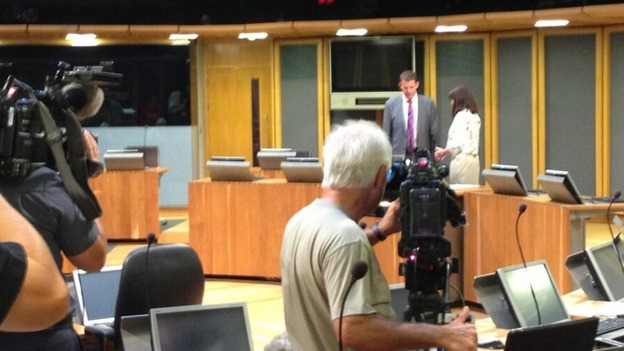 Plaid Cymru's new Assembly Member for Ynys Môn, Rhun ap Iorwerth spoke to ITV News about his landslide victory at the Anglesey by-election.
He told our reporter Owain Phillips his main focus is working with communities on Anglesey to keep young people there and to get wages up on the island.
He is due to be sworn in as an Assembly Member in Cardiff later today.
Advertisement
Plaid Cymru's newest AM, Rhun ap Iorwerth says he's 'humbled and overwhelmed' by his resounding victory in the Ynys Môn by-election.
The real work starts today. I am passionate about building a brighter future for the people of the island, where I was raised and where I am raising my family. I am humbled and overwhelmed by the support that I have received. I am committed to being a strong local voice for the people of Ynys Môn. I will grasp with both hands every opportunity to push for action to boost our economy and create jobs on the island.
I also look forward to working with Leanne Wood and my Plaid Cymru colleagues to ensure that we become the biggest party in Wales.This is a pivotal time for Anglesey, and I will work from the outset to deliver a brighter future for Ynys Môn.
– Rhun ap Iorwerth, Plaid Cymru
Anglesey council has tweeted the official figures in the island's by-election.
Ynys Môn result as follows... Rhun Ap Iorwerth PC 12601 Stephen Churchman LD 309 Neil Fairlamb Con 1843
Nathan Gill UKIP 3099 Kathrine Jones Soc Lab 348 Tal Michael Lab 3435
Official result declared - Plaid Cymru's Rhun ap Iorwerth takes the seat with Labour second and Ukip a close 3rd.
ITV News staff at the Anglesey by-election count say that the candidates and returning officer are 'in a huddle' and that a declaration is imminent.
Advertisement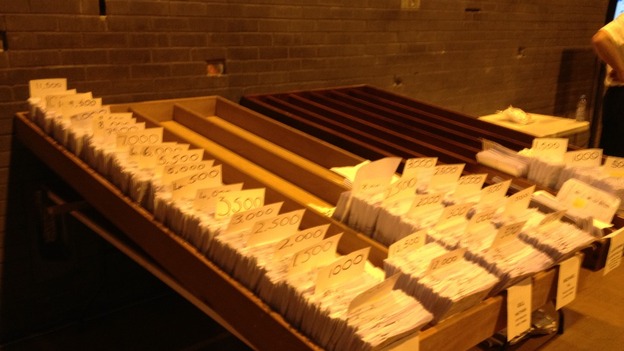 The picture says it all. Ballot papers in the Ynys Môn by-election. The left hand row are all for Plaid Cymru's candidate, Rhun ap Iorwerth. He says it's 'humbling' to see them.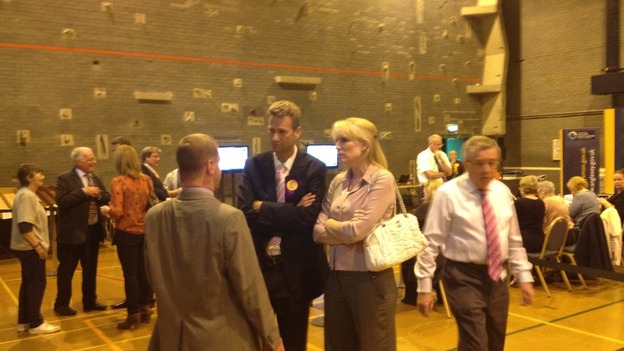 UKIP's Nathan Gill, who's on course for an impressive result for the party with some observers suggesting he could come second.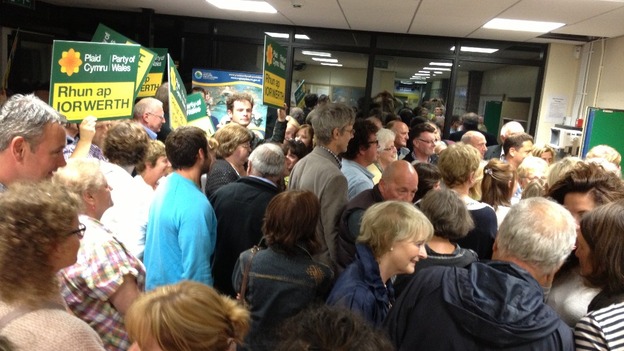 A crowd of Plaid Cymru supporters have gathered at the entrance to the Llangefni Leisure Centre where the count is taking place. Until their candidate Rhun ap Iorwerth appeared to cheers, they sang loudly, including a chorus of Hen Wlad Fy Nhadau but also a song mocking UKIP.
Nigel Farage's party are the only rivals likely to steal any headlines from Plaid Cymru. They seem to be on course for at least third place and appear to be running Labour close for second place at this stage in the count.
There was a 42% turnout in the Ynys Mon by-election, down on the 49% at the last Assembly election but considered pretty respectable for a by-election in August.
As the count continues and the votes start to pile up next to the candidates' names, predictions of a comfortable win for Plaid Cymru's Rhun ap Iorwerth are growing more confident. Labour's Tal michael is expected to come second but there is clearly strong support for UKIp's Nathan Gill.
The Tories are expected to save their £500 deposit, which is lost by candidates who fail to win at least 5% of the vote. The Liberal Democrat and Socialist Labour candidates aren't expected to see their money again.
Load more updates
Back to top