Mackay 'not asked to resign'
Malky Mackay has spoken for the first time about the recent turmoil at Cardiff City. He denied he has been asked to resign, and said the departure of head of recruitment Iain Moody was not due to a transfer budget overspend.
Fans of Cardiff City Football club have expressed "surprise" and "concern" at moves that they say put a question mark over the future of manager Malky Mackay.
The club has faced scathing criticism of a decision to put a 23-year-old work experience student from Kazakhstan in charge of transfers, as Nick Hartley reports.
Cardiff City Supporters' Trust have responded to speculation over the future of Cardiff City boss Malky Mackay, saying fans will be 'concerned'.
They're calling for a 'clear statement' on the Club's position.
Fans will be concerned with the recent behind-the-scene developments at Cardiff City which appear to put into question the future of our manager, Malky Mackay. Supporters are surprised that who appears to have little hands-on experience has been put in charge of transfers at the football club.

Fans want Malky Mackay, who has done a fantastic job as manager taking the club to the Premier League, to remain at Cardiff City. We don't want to see any action taken to undermine his position as manager and Cardiff City's efforts to have a successful first season in the top division.
There are fears that the current developments could drive Malky into the arms of another Premier League club and that would be hugely damaging for the Bluebirds. Malky is a talented manager who has huge respect among the fans for what he has delivered.

Fans deserve a clear statement on the position from the club on what has been happening and Malky's position needs to be made perfectly clear.
– Cardiff City Supporters' Trust
Advertisement
Malky Mackay is now the bookies' favourite to be the next Premier League manager to leave their post.
The fallout at Cardiff City has emanated from the suspension of Iain Moody, who was Cardiff's head of recruitment, and a trusted right-hand-man he brought with him from Watford in 2011.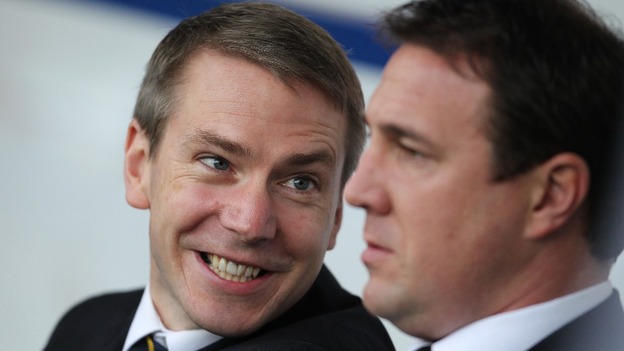 The situation at Cardiff City is described as a "farce" and a "crisis" in the Welsh and London newspapers today.
The front page of the Sun (£) reads "you don't know what you're doing, Tan", and refers to Cardiff's Malaysian owner Vincent Tan "hiring a work experience student who painted their ground to take charge of transfers."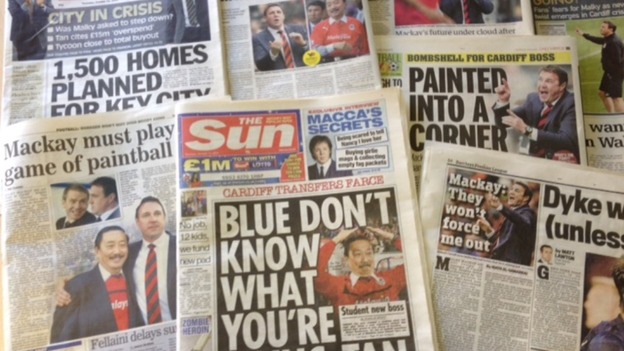 The Daily Mirror says Mackay will be "shocked and angry" after his head of recruitment Iain Moody was replaced by "rookie 23-year-old" Alisher Apsalyamov.
The Daily Mail reports Mackay pledging "they won't force me out", despite his right-hand-man being suspended, and replaced with a school friend of owner Vincent Tan's son.
The paper says the reason by Tan's decision to make the personnel change is his upset at what he thinks was overspending on transfers this summer.
Speculation over the future of Cardiff City manager Malky Mackay is continuing, after the club suspended one of the most trusted members of his backroom staff.
Head of recruitment Iain Moody, who worked for Mackay during his time at Watford before moving to South Wales with him in 2011, has been replaced by Alisher Apsalyamov, a 23-year-old from Kazakhstan.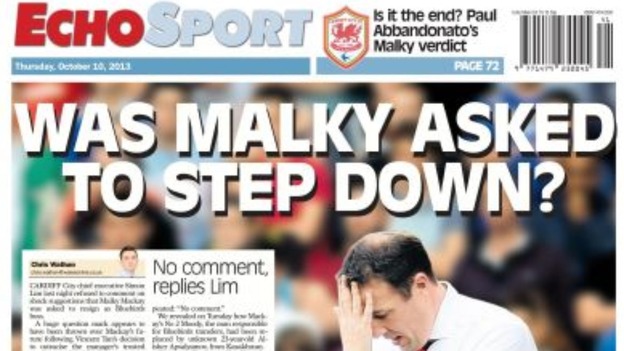 The Western Mail and South Wales Echo are reporting that Bluebirds chief executive Simon Lim answered "no comment", when asked if Mackay had been asked to resign.
Apsalyamov is thought to be a friend of owner Vincent Tan's son and appears to have no previous experience in football.
Mackay has regularly praised Moody's scouting and recruitment work at Cardiff, where he has helped to bring in players including Steven Caulker, Gary Medel, Kevin Theophile-Catherine and Fraizer Campbell.
This fallout comes just days after it was revealed that owner Tan had been in a dispute with Cardiff players over bonus payments.
Load more updates
Back to top