AMs to pay tribute to Mandela
Nelson Mandela will be honoured later when Assembly Members hold a minute's silence at the Senedd. The former South African President died last week.
Wales' First Minister has spoken of the legacy Nelson Mandela has left following his death yesterday.
Carwyn Jones said: "Just to take the measure of somebody who had such a strength of character that allowed him to put aside his difficulties, his trials, his sufferings, for the good of all people - that really is his legacy."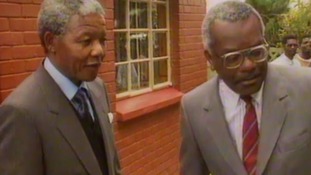 Former ITV News presenter Sir Trevor McDonald was the first journalist to interview Nelson Mandela after his release from prison in 1990.
Read the full story
Advertisement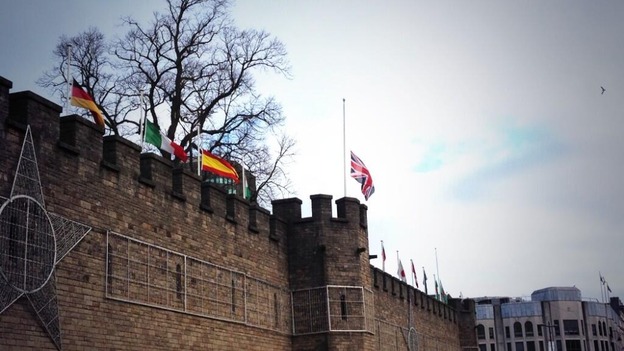 All flags at Cardiff Castle are being flown at half-mast today in memory of Nelson Mandela.
The South African President received the Freedom of the City of Cardiff in the castle grounds in June 1998.
Twitter users who met Nelson Mandela when he visited Cardiff in 1998 have been sharing their memories of him.
I had the pleasure of meeting Nelson Mandela when he came to Cardiff. A genuinely nice man. R.I.P.
– Sandra Lloyd, via Twitter
Was in same room as Nelson Mandela @ UK Presidency of EU meeting in Cardiff 1998. All present bowled over by his charisma & joire de vivre.
– Sara Hinds, via Twitter
Feel enormously privileged to have seen Nelson Mandela when he came to Cardiff Castle in 1998. A truly great man.
– Melanie Falleyn, via Twitter
The leader of the Welsh Liberal Democrats, Kirsty Williams, has described Nelson Mandela as 'an inspirational leader' and 'a truly great man'.
Nelson Mandela personifies the struggle for freedom and equality for all. Through his courage and perseverance he achieved what so many considered to be impossible and brought about real change. After centuries of oppression he liberated South Africa from the tyranny of racial apartheid and in doing so demonstrated to the rest of the world how to lead with compassion and grace.

His ability to unify communities and deliver justice to a fractured and tormented state is unparalleled and his legacy will continue for generations to come.
– Kirsty Williams AM, Welsh Liberal Democrat Leader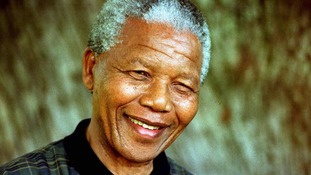 Advertisement
In June 1998 the leaders of the European Union gathered for a summit in Cardiff, where they took the opportunity to salute Nelson Mandela, who was in his final year as President of South Africa.
It was his only visit to Wales and he accepted the Freedom of Cardiff, giving a speech that praised the Welsh contribution to the anti-apartheid struggle.
He displayed his customary magnanimity, acknowledging that rugby did finally cut its links with white-ruled South Africa rather than mentioning the years of protest before it did so. Nevertheless, the only person he thanked by name was Bert Pierce, the former leader of the Welsh Communist Party.
When the call for the international isolation of apartheid went out to the world, the people of Wales responded magnificently. The knowledge that local authorities all over Wales were banning apartheid products from canteens and schools; and that the universities, the Welsh Rugby Union, and the choirs had cut their links, was a great inspiration to us in our struggle. So too was the contribution of organised Welsh workers. Action on such a scale could only flow from strong support by ordinary Welsh people on the ground.
So we knew that the Wales Anti-Apartheid Movement spoke for a people who cared for our freedom as their own. It is normally invidious to single out individuals. But ... there is a certain satisfaction in acknowledging, if you so permit me, that there is one amongst us who is even older than I am and who has been a campaigner for democracy in South Africa since his youth. May the youth of today, when they have reached the age of 84 like Bert Pierce, also be able look back on a lifetime of struggle for justice.
In accepting your freedom, so graciously bestowed, I would like you to accept our heartfelt thanks on behalf of the people of South Africa for your solidarity. Democracy has brought new and even greater challenges. In the four years of our freedom we have laid the foundation for a better life for all. But eradicating the legacy of apartheid and rebuilding our region will take many years. Brief as our visit to Wales must be, I will be able to tell my people that in the people of Wales we have friends indeed, ready to join hands with us in building a better life for all.
– Nelson Mandela, speaking at Cardiff Castle, 16 June 1998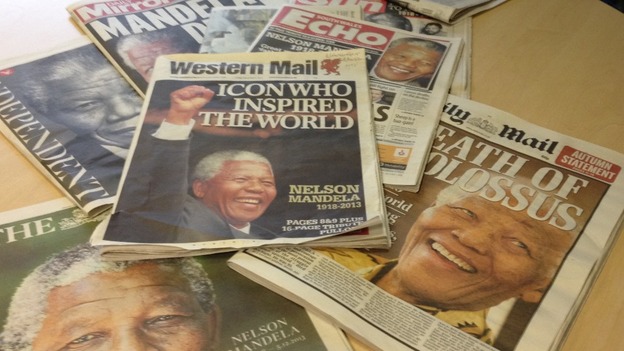 As the world wakes up to hear the news of Nelson Mandela's death, the Welsh and UK papers react and pay tribute to his life.
The announcement came last night in a statement made by South African President Jacob Zuma.
Nelson Mandela who shaped human history, overcame wickedness and showed what life in its fullness could look like.#nelsonmandela
Tributes are pouring in for Nelson Mandela from the world of rugby. International rugby referee Nigel Owens met Mandela. He said it was an "honour" and a privilege" to meet him.
Very sad to hear that Nelson Mandela has passed away. Had the honour and privilege of meeting and shaking the greatest of men hand
Rest in Peace Nelson Mandela. We will never forget the role you played in our country, in our sport, and for that we are eternally grateful.
Had the honour of meeting the great man before the South Africa 2004 Match. A moment I will never forget, RIP Nelson Mandela #icon
Load more updates
Back to top