Rhyl floods: Clean-up underway
A huge clean-up operation is underway in Rhyl after severe weather along the North Wales coastline left many homes flooded.
North Wales Fire and Rescue Service says it received 34 flooding related calls between 10am and 2.30pm.
Firefighters were mobilised to a number of incidents and for others control operators issued advice over the telephone.

The majority of incidents were in the Garford Road, Ridgeway Avenue and Coast Road area of Rhyl with crews from NWFRS and RNLI working together undertaking rescues and assisting with evacuation.

These included incidents of outside and inside flooding and house fires on Garford Road, Rhyl at 12.31hrs and Coast Road, Rhyl at 13.26hrs and 13.44hrs where flooding caused fires in the electrical units in the properties. No serious damage was caused and the residents were unhurt.
– North Wales Fire and Rescue Service
Ysgol Bryn Hedydd in Rhyl has been evacuated due to the severe weather conditions.
We are closed- had to evacuate- all children to be picked up from RHS Leisure Centre
Advertisement
Emergency services are continuing to rescue Rhyl residents whose homes have been flooded.
Two RNLI Flood Rescue Teams assembled in St Asaph and have been deployed to assist the North Wales Fire and Rescue Service in evacuating residents from flooded bungalows in Rhyl.

The team have been working with the Fire and Rescue team as well as other emergency services in evacuating residents from their flooded homes in the Garfield Road area since 12:50pm.

The RNLI volunteers have already evacuated 25 residents and six dogs from their flooded homes and are now continuing to search the area.
– RNLI
As of 2.00 pm people living or working in properties in the Greenfield to Bagillt and the Point of Ayr areas of Flintshire have been advised to evacuate and a rest centre has been opened by Flintshire County Council at Holywell Leisure Centre.

Properties in Garford Road, Rhyl, have been flooded and residents evacuated to Rhyl Leisure Centre where a rest centre has been set up by Denbighshire County Council.

If other areas need to be evacuated emergency services will alert residents, inform the media, update social media and attend locations to assist to ensure people's safety.
– North Wales Police

Police have urged residents to monitor emergency services messages online, on radio and television for the latest information.
Attending COBRA this afternoon to hear latest on #flood threat in North Wales
Watching #flood situation closely. Would appreciate local updates from North Walians.
Advertisement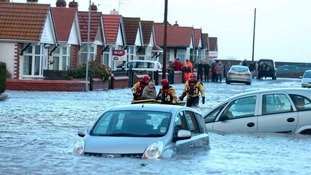 The severe weather has seen residents rescued from their flooded homes, travel disrupted and schools closed.
Read the full story
Viewer Laura Parry has sent us this video footage taken, by Paul Bayliss, of an ASDA supermarket in Kinmel Bay during the bad weather.
The Rhyl Journal reports that the supermarket remains open, though the road leading to it is closed.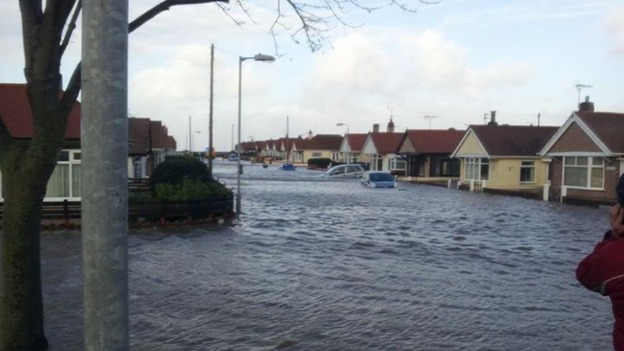 If you have any concerns about flooding, please call Floodline on 0845 988 1188 for advice 24 hours a day #floodaware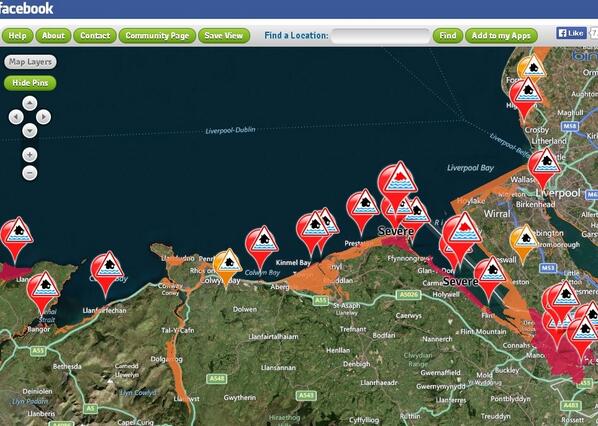 Load more updates
Back to top